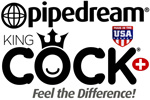 Perfect for those suffering from ED or premature ejaculation.
The Tan Flesh-colored Pipedreams King Cock 9 inch Realistic Uncut Hollow Dong with Strap-on Harness has a lifelike movable foreskin that slides back—just like a real uncut cock! The flexible shaft and foreskin are exquisitely handcrafted to provide intensely stimulating sensations. This Caramel colored 9 inch Realistic Uncut Dong that has a 2 inch wide phallic shaped head with the foreskin that continues down the shaft for a girth of 2.25 inches at the base of the 9 inch insertable shaft. The flexible shaft and the uncut foreskin are exquisitely handcrafted to provide incredibly stimulating sensations. Using our proprietary dual-density Slide-Skin formula, we've created the first ever latex-free, American-made uncut dildo with retractable foreskin!
With the length and girth you've always dreamed of strapped onto your crotch, you'll have the confidence you need to satisfy your lover like never before! Developed as a safe, affordable, non-surgical alternative to expensive medical procedures and pills, your Fantasy X-tension will give you the biggest, thickest, most satisfying pleasure rod you ever imagined! Perfect for men with ED and midway performance problems, your new enhancer will deliver results that both partners will love! You also get the detailed textures of real skin with veins and wrinkles provide even more of the realistic feeling that you're looking for. Inside this hollow monster is a long 1.5 inch wide removable plastic tube that helps this large rubber dong keep its rigidity, making it perfect for men with performance or erection problems or for both sexes to wear and use without an erection.
Combined, it is truly the most lifelike PVC dildo you will ever experience! This hollow harness kit includes the King Cock 9 inch Realistic Uncut Hollow Dong with Strap-on Harness that has a hefty girth of 1.75 inches with an insertable shaft length of 9 inches. Every vein, every shaft, and every head is carefully handcrafted with exquisite detail to give you the most realistic experience ever imagined. The heavy-duty vinyl harness keeps everything in place even when the action heats up. The powerful 3 inch wide suction cup base sticks to nearly any flat surface and can be used with or without the included Strap-On Harness.
The form-fitting design hugs your body's contours and gets even softer and more fitting with each use. With a completely adjustable thong strap and waist straps, it comfortably fits waists up to 52 inches. The metal belt buckles ensure it won't come loose during the fun, while the velcro straps hold the O-ring securely in place. Best of all, King Cock is proudly made in the USA so you can enjoy every masterpiece with confidence. Like all King Cocks, the new Uncut series features the same handcrafted attention to detail that make these dildos the most realistic, lifelike cocks in the world! Best of all, the King Cock Collection is proudly made in the USA so you can enjoy every masterpiece with confidence.
Made from Realistic feeling PVC for the dong and Vinyl for the harness, this King Cock Line of toys are body safe and a great choice for everyone. Made in Pipedream Products' state-of-the-art rubber manufacturing facility in California, every King Cock is phthalate-free, latex-free, body-safe, and hypoallergenic. Just add your favorite Water Based Lubricant and have a wet n wild time. It is not recommended to be used with silicone lubes. After use, carefully wash the dong with mild soap and water or try the Toy Cleaner for even quicker cleanup. Gently spot clean the harness with toy cleaner and warm water and lay flat to dry. Store this toy separately from other sex toys.
Color: Caramel Tan Flesh, Black
Materials: Nylon, Vinyl, Metal, Plastic, Silicone, PVC
Length: 10 inch
Insertable Length: 9 inch
Width: 1.75 inch(head), 2 inch(head with foreskin), 1.75 inch to 2.25 inch(shaft), 1.5 inch(inner shaft), 3 inch(suction cup)
Powered By: You
Weight: 24 oz
Additional Information: hollow shaft with insert, realistic uncut foreskin with slide-back technology, fits waists up to 52-inches, 3 o-ring sizes, realistic feeling texture and looks, lifelike texture, suction cup base, strap-on harness compatible, made in the USA, Phthalate Free, waterproof, body-safe, Water Based Lubricant Recommended