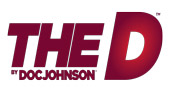 You'll think you're banging into the real thing! This Realistic D has 12 full inches of realistic UltraSkyn man meat that was handcrafted in the USA to satisfy.
Don't be fooled by Imitations, the Doc Johnson The D Realistic D 12 inch UltraSkyn Dual Density Realistic Dildo in Vanilla is by far the most realistic cock ever made without balls. The original and one of the most popular shapes in The D Collection, has a no nonsense perfectly shaped 1.875 inch wide head at the coronal ridge that leads all the way down the 2 inch wide, 11.8 inch insertable shaft. Just pure pleasure with a fully articulated shaft with amazing detail and lifelike feel down to the molded, hand-painted veins and wrinkles that has a perfect blend of rigidity and softness. The Dual Density design feels just like the real thing being soft and plush on the outside while the firm inner core mimics the hardest of dicks anywhere.
You can mount the Realistic D 12 inch UltraSkyn Dual Density Realistic Dildo using the 2.875 inch wide sturdy suction cup for hands-free action scenes that you perform solo or in front of an audience or partner up this strap-on dildo with a quality strap-on harness with an O-ring style harness built to handle Giant Dildos & Dongs like the Blush Novelties SX for You Advanced Fully Adjustable G-String Strap-On Harness or the Basix Rubber Worx Universal O-Ring Strap-On Harness for even more fun! The D Dildo Collection by Doc Johnson is an exciting collection of our best-selling shapes, re-imagined in lifelike dual density UltraSkyn. We've committed to keeping the quality high and the prices affordable, so everybody can get The D. The Realistic D is available in 3 sizes - 8 inch, 10 inch and a monster 12 inch that will find all of the right spot whether male or female.
Made from Dual Density UltraSkyn ThermoPlastic Elastomer or TPE, the Doc Johnson Line of Dongs & Dildos are body safe and a great choice for everyone. The D is available in both dual density UltraSkyn that warms to the touch and is designed with a soft exterior and firm core to emulate the feel of a real penis, and the FirmSkyn option offers a firmer feel in a classic pleasure product material. Always use massive amounts of your favorite Water-based Lubricant for a more enjoyable experience. It is not recommended to be used with silicone lubes. After use just carefully wash the toy with mild soap and water or try the Toy Cleaner for even quicker cleanup. To keep The D or any TPE, TPR, UltraSkyn, Cyberskin, Fanta Flesh, real skin dongs always ready for the next play session use the Doc Johnson Main Squeeze Refresh Powder or other renew powder after it is clean and dry. Store this toy separately from other sex toys.
Color: Vanilla Flesh
Materials: UltraSkyn Anti-bacterial Sil-a-gel formula infused TPE
Length: 12.3 inch(overall)
Insertable Length: 11.8 inch
Width: 1.875 inch(head), 2.1 inch(shaft), 2 inch(base of shaft), 2.875 inch(suction cup)
Powered By: You
Weight: 20 oz
Additional Information: pronounced coronal ridge, long straight shaft, Veined Detailing, Ultra-plush dual density Design, Velvety Matte Finish, o-ring Strap-On Harnesses, 3 sizes available, Phthalate Free, body-safe, seamless, Water Based Lubricant Recommended, waterproof