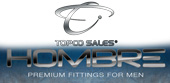 For a snug fit with a bit of extra cushion for the pushin', you can train your way to a longer, stronger performance with the thicker Hombre premium fittings for Men.
One of the simplest, yet most effective sex toys money can buy, the seam-free Topco Hombre Snug-Fit Silicone Thick Cock Rings 3-Pack in Charcoal apply pressure to the base of your penis, which may help to strengthen and enlarge your erection and delay ejaculation for longer lasting fun. With 3 thick silicone rings in a range of inner diameter sizes - 31 mm or 1.25 inch, 44 mm or 1.75 inch & 50 mm or 2 inch widths - to choose from, customize your experience for optimum results. Wearing 1 ring, or any combination of the 3 around your shaft and testicles, may help prolong stamina during masturbation, foreplay and sex. To top it all off, these Hombre Snug-Fit Silicone Thick C-Rings are supremely easy to use, so regardless of your experience level, getting the most from intimate pleasure couldn't be simpler.
These stretchy erection rings help you stay harder longer with a fuller erection, mind-blowing orgasms, and can even prevent premature ejaculation. Stretch one or both of the Hombre Cock Rings around the base of the penis for comfortable intimate enhancement an intensely better sex.
The TopCo Sales toys made in the USA body-safe Silicone material is soft and flexible but rigid enough for intense sensations. Just add your favorite water-based Lubricant and have a blast. It is not recommended to be used with silicone lubes. After use, carefully wash the toy with mild soap and water or try the Toy Cleaner for even quicker cleanup. Store this toy separately from other sex toys.
Color: Charcoal Grey
Material: Silicone
Size:
Inside Diameter 1.25 inch / 31 mm, 1.75 inch / 44 mm, 2 inch / 50 mm
Outside Diameter 1.97 inch / 49.8 mm, 2.62 inch / 66.5 mm, 2.84 inch / 72.5 mm
Additional Information: enhance your erection, longer lasting sex, 3 sizes, Helps control premature ejaculation