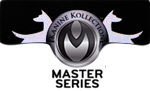 Puppy play doesn't have to stay behind closed doors!
This canine accessory attaches to your standard belt to alert the world that you're a dirty dog. The XR Brands Master Series Kanine Kollection Rover Tail Puppy Tail Belt Harness is made of flexible premium black silicone that moves with every step you take with an 11.5 inch overall length. Wag your tail to let your owner or the other pups know that you're ready to play! Forget about the hanky code, this excited Rover Tail is a great way to signal your kinks at a party or club. Just feed your standard belt up to 1.5 inches wide through the slits and get down on all fours! This puppy play accessory will make you feel Best In Show wherever you go! The question is: are you a well-behaved pooch or do you need some training? Attach this perky puppy tail to your belt to show everyone what a good dog you are!
Master your domain. Explore an abyss of taboo fantasies with Master Series! Spanning all levels and niches of BDSM and Fetish, this devious collection includes essentials for chastity, puppy play, Master/slave, medical fetish and much more! Discover cutting-edge toys, tools, and devices that will make your inner Dominant or submissive tremble with excitement. Craft an unforgettable play scene with unique accessories from the Master Series collection by XR Brands.
Made from Silicone & Faux Leather, the Master Series Line of toys are body safe and a great choice for everyone. After use, carefully wash the toy with mild soap and water or try the Toy Cleaner for even quicker cleanup. Store this toy separately from other sex toys.
Color: Black
Materials: Silicone, Faux Leather
Length: 11.5 inch(overall)
Insertable Length: NA
Belt Width: 1.5 inch
Powered By: You
Weight: 14 oz
Additional Information: wags like a real dog tail, classic spade shape, realistic texture, puppy fetish, Phthalate Free, waterproof, body-safe