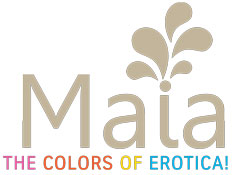 A real man uses the right tool for the job.
The Maia Toys Man Mano 10-function Rechargeable Silicone Dual Motor Prostate Massager is an anatomically precise and intensely powerful Prostate Massager that takes inspiration from the popular rabbit vibe with a shape designed to target 2 of the male sweet spots at the same time. Curving up and out at the tip, Mano's insertable portion angled naturally forward once in place, all the better to locate your super sensitive prostate gland. With a deeply rippled underside, Mano's varying ribs and ridges leave no backdoor erogenous zone untouched. As the shaft works inside, a curved stimulator angles up from below, putting pressure on your perineum, an often overlooked area that is rich in orgasmic nerve endings.
The Mano Prostate Stimulator from the Man Collection of male sex toys and accessories also has a finger hook built into the handle that helps with control, removal and has easy to use control buttons in the same area. The Mano 10-function Rechargeable Silicone Dual Motor Prostate Massager is the perfect tool for prostate pleasure with its dual motors that pump out 10 powerful vibration and pulsation sensations that are sure to satisfy the most skeptical of men. The unique and tapered dual stimulating shape of each part allows for smooth entry and comfortable fit. The Mano has 2.75 inches insertable on the ridged side with a width that varies from .75 inches to 1 inch wide so it is perfect for all levels of p-spot adventurers.
Feel like a little shower play, take the Mano 10-function Rechargeable Silicone Dual Motor Prostate Massager with you. He is fully waterproof. Did you forget to pick up batteries? Most all of the Maia Toy collection are Eco-friendly intimate pleasure devices since they rechargeable so you don't have to keep buying lots of batteries. The USB powered charger for the Jackson Penis Pump is included so you can plug into your computer or a wall plug to keep the fun going, You'll never run out of power. Color therapy aims to balance our body's energy centers or chakras by using the colours of the light spectrum, which can help to stimulate our body's own healing process. The Maia Man line of toys is our first luxury collection for men. They are distinguished by their extraordinary looks and the powerful sensations they provide. The Maia Man Collection of products are made from medical grade silicone conditioned to be soft & smooth to the touch.
Made of Phthalate-free Medical Grade Silicone and ABS Plastic, always use a good water based lubricant with the Maia Toys. It is not recommended to be used with silicone lubes. After use, carefully wash the toy with mild soap and water or try the Toy Cleaner for even quicker cleanup. Store this toy separately from other sex toys.
Color: Grey, Neon Orange
Materials: Medical grade silicone, ABS Plastic, PolyPropylene
Length: 5.125 inch(overall)
Insertable Length: 1.9 inch(small), 2.75 inch(large)
Width: .5 inch to .85 inch(small), .75 inch to 1 inch(large), 1.25 inch(finger hook), 1.375 inch(base), 3.25 inch(overall)
Powered By: Rechargeable Batteries with USB charger included
Weight: 4.7 oz
Additional Information: remote control, 2 aizes of anal plugs, 10-speed vibrations, color therapy, Phthalates Free, Fully Waterproof, Unisex, Water Based Lubricant Recommended