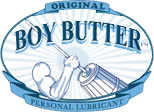 Long lasting and totally satisfying, all the fun without the fat!
The 1st Water-Based Cream formula ever totally latex and vaginally safe! Plus the 1st water based lubricant designed perfectly for both men and women. You'll Never Know it isn't Boy Butter or Boy Butter Lube Tube H20 Water-Based Cream Lubricant 6 oz is a water-based gel lubricant with added Vitamin E, Shea butter and a touch of Aloe, gentle oils that do not degrade latex nor cause any internal irritation in either men or women. The formula is creamy and and goes on clear, the end result is a water based personal lubricant that feels like an oil based lubricant by avoiding the evaporation process, lasting so much longer than traditional water based gel lubricants and there is no need to for constant reapplication to recharge it.
It will keep going and going very much like oil based products yet is non-staining, and eventually absorbs into the skin it can even be used as moisturizer or lotion: Boy Butter H20 based formula is 100% latex safe, and vaginally safe. We promise that sex will feel better and more natural. After use, carefully wash the toy with mild soap and water or try the Toy Cleaner for even quicker cleanup. Store this toy separately from other sex toys.
Ingredients: Di-Water, Carbomer, Tocopheryl Acetate, Methylparaben, Propylene Glycol, Glycerin, PEG-100 Stearate, Tricapryun, Shea Butter, Cyclopentasiloxane, Aloe Vera Extract, Daizolidinyl Urea, Yellow 5, Triethanolamine.
Not latex condom compatible. Use for solo mastubation or with a trusted partner. Made in the USA.