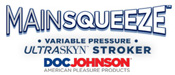 The Man Squeeze is an anal masturbator collection created especially for men who love men.
The Doc Johnson Man Squeeze Twink Variable Pressure UltraSkyn Realistic Anal Stroker is a pert, playful style with a rounded ass shape and soft, pliable opening in lifelike UltraSkyn. Just like its Main Squeeze counterparts, this Man Squeeze Twink Variable Pressure UltraSkyn Realistic Anal Stroker is crafted with a unique internal texture to make you feel like you took home the cutest Twink at the club. The double-cap hardshell design doubles as a discreet travel and storage case, keeping your Man Squeeze fresh and ready for whenever the mood strikes.
You pick your preferred water-based lubricant and then just stroke the Man Squeeze Twink Ass Stroker up and down the shaft of your penis at your own pace, using the built-in squeeze plates on the sides you can apply pressure wherever and whenever you choose. The Man Squeeze's special Squeeze Plate uses an airtight end cap that twists to adjust how much suction you want so you can have different experience with the same stroker. The Doc Johnson's discreet Main Squeeze Strokers line of black hard case masturbators starring our most popular porn star, vagina and ass molds is designed to put the power in your hands, featuring a squeezable grip that lets you vary the tightness of each stroke and a suction-adjusting end cap. The Main Squeeze Strokers are compatible with the Doc Johnson Main Squeeze Suction Cup Accessory for an awesome hands-free experience with your favorite girl.
Made from UltraSkyn UR3 TPE(ThermoPlastic Rubber), the Doc Johnson Main Squeeze Line of toys are body safe and a great choice for everyone. Always use massive amounts of your favorite water-based lubricant for a more enjoyable experience. It is not recommended to be used with silicone lubes. Open-ended design makes cleanup a breeze, After use just carefully wash the toy with mild soap and water or try the Toy Cleaner for even quicker cleanup. To keep your Main Squeeze Stroker or any TPR, TPE, UltraSkyn, Cyberskin, fanta flesh, real skin masturbators always ready for the next play session use the Doc Johnson Main Squeeze Refresh Powder 1 oz after it is clean and dry. Store this toy separately from other sex toys.
Color: Vanilla Flesh, Black
Materials: UltraSkyn UR3 Anti-bacterial Sil-a-gel formula infused TPE
Length: 7.5 inch(outside)
Insertable Length: 7 inch
Width: 3 inch
Powered By: You
Weight: 9 oz
Additional Information: Textured ULTRASKYN Masturbator with Hard Outer Case, Molded Directly from a round twink, Built-In Squeeze Plate Grip Allows User to Control Pressure, End Cap Creates Intense Suction, Base Twists to Adjust Suction Strength, Fully Disassembles for Cleaning, Phthalate Free, waterproof, body-safe, Water Based Lubricant Recommended
These products as with all products on this site are supplied AS IS. No warranty is given either implied or expressed. Products are intended as novelty only, and no representation is made or implied as to their suitability or safety for any particular use. Purchasers use the products entirely at their own risk. The manufacturer or re-seller is not liable for any direct, indirect, incidental or consequential damage or loss howsoever arising caused by use or misuse of the products. This includes, but is not limited to, damage to the products and personal injury or damages due to use or misuse.