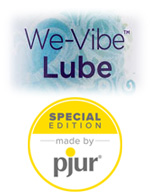 Specially formulated for all We-Vibe products from the experts at Pjur.
The pjur We-Vibe Lube Water-based Personal Lubricant in 3.4 oz is a water-based personal lubricant for vaginal and/or penile application. It was developed by the German lube pioneer pjur, the water-based personal lubricant enhances the ease and comfort of intimate sexual activity. The formula provides additional moisture and long lasting lubrication. The We-Vibe Lube Water-based Personal Lubricant is completely absorbed in the skin and leaves no sticky film only an exquisite overall feeling. We-Vibe Lube by pjur moisturizes, protects and nourishes dry, damaged skin. This pleasant skin feeling enhances sexual pleasure and the desire for more! The lubricant contains no fats, oils or perfumes, and is therefore positively skin and mucous membrane compatible. It is recommended for all We-Vibe products as well as your other silicone-based sex toys.
After use, carefully wash the toy and your body parts with mild soap and water or try the pjur We-Vibe Clean Alcohol-free Toy Cleaning Spray or any other quality Toy Cleaner for even quicker cleanup. Store this toy separately from other sex toys.
Size: 3.4 oz or 100mL
Ingredients: Water, Glycerin, Ethoxydiglycol, Guar Hydroxypropyltrimonium Chloride, Hydroxyethylcellulose, Citric Acid, Benzyl Alcohol, Methylisothiazolinone, Methylchloroisothiazolinone.

We're shaping an industry. We-Vibe designs and manufactures world-leading couples and solo vibrators. Our world-class engineers and industrial designers work closely With sexual wellness experts. doctors and consumers to design and develop intimate products that work In sync with the human body. And we use state-of-the-art techniques and tools to make sure our products set new industry standards for ergonomic design and high performance while remaining eco-friendly and body-safe.
We-Vlbe is from Standard Innovation, a Canadian company dedicated to shaping the future of sexual health and wellness. We are committed to delivering on our promise of customer satisfaction.