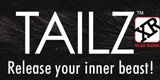 Act out your most Devilish fantasies with this set of demonic toys!
The XR Brands Tailz Devil Tail Silicone Anal Plug & Horns Set transforms you into the hottest demon in the bedroom with the almost 40 inch long demon tail butt plug and kinky devil horn headband! This sinfully sexy duo are built for role play, combine with sexy lingerie, colored contacts, and your choice of Bondage Restraints for a hell of a good time.
The flexible shaft on the Tailz Devil Tail Silicone Anal Plug tapers from 1.25 inches wide by the plug to .6 inches where it ends in a kinky 2.6 inch wide arrowhead tip, the shaft has an internal wire that bends and stays in whatever shape you want. This Devil Tail Silicone Anal Plug & Horns Set features a deliciously supple red silicone butt plug that's 1.4 inch wide tapered shaped with a narrow .5 inch wide neck for comfortable insertion up to 2.6 inches and easy on your hole during extended wear. With a 1.5 inch wide base, the Devil Tail is perfect for walking around the house and tempting your human subject into nefarious activities.
The meaty Tailz Devil Tail itself is plush and flexible, with a decent amount of weight to pull down against your asshole to stimulate you with every movement while being comfortable. Have your human plaything pull on your tail when things get hot and heavy for even more backdoor stimulation! The included Devil Horns slip on most head sizes, completing your demonic look and giving you an evil silhouette for your lover to enjoy. The black mesh lace material is lightweight for comfortable extended wear. Pair these horns with your darkest set of lingerie or leather harness, perfect for men and women alike.
Take a walk on the wild side! Pony, Devil, fox, bunny, pup, or pussy cat… it's time to set your inner beast free! The Tailz Role-playing Tails is the first of its kind, exclusively providing a menagerie of anal plugs for anal toy enthusiasts and animal Role Playing fetishists. Available in an assortment of sizes, materials, and textures, this line offers something for the novice and the experienced, the domesticated and the wild! Visually striking packaging coaxes a fantasy that will arouse your animal instincts!
Made from Body safe Silicone and Faux Leather, Tailz by XR Brands Devil Tail toy is great for everyone. Just add your favorite Water-Based Lubricant to make insertion easier and have a devil of a time time. After use, carefully wash the toy with mild soap and water or try the Toy Cleaner for even quicker cleanup. Store this toy separately from other sex toys.
Color: Black, Red, Silver
Materials: Silicone, Faux Leather, Lace, Metal
Length: 39.75 inch(Overall), 36.4 inch(tail), 3.3 inch(plug), , 3.3 inch(horns)
Insertable Length: 2.6 inch
Width: .5 inch(tip), 1.4 inch(bulb), .5 inch(neck), 1.5 inch wide base; 2.6 inch x 3.25 inch(arrowhead), .6 inch to 1.25 inch(tail shaft)
Powered By: You
Weight: 10 oz
Features: arrowhead tipped flexible tail plug, lace devil horn headband, demon devil play, smooth tapered tip, classic spade shape, wide flared base, flexible, body safe, Phthalates-free, Soft and comfortable, anal intercourse, double penetration and prostate probing
Disclaimer: The manufacturer will only ship these items UPS Ground or USPS 1st Class Mail so it may take a few extra days for delivery. These products as with all products on this site are supplied AS IS. No warranty is given either implied or expressed. Products are intended as novelty only, and no representation is made or implied as to their suitability or safety for any particular use. Purchasers use the products entirely at their own risk. The manufacturer or re-seller is not liable for any direct, indirect, incidental or consequential damage or loss howsoever arising caused by use or misuse of the products. This includes, but is not limited to, damage to the products and personal injury or damages due to use or misuse.