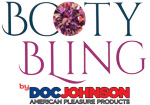 Add some bling and beauty to your booty!
The Booty Bling Pink Jeweled Silicone Anal Plug has 2.6 inches insertable that starts with a tapered .5 inch tip, thin .4 inch wide stem, and classic 1.2 inch wide spade shape make Booty Bling feel as good as it looks. The narrow stem helps your body old this blingin' booty plug in place for comfortable anal play for guys and dolls. Choose from three different gem colors of Booty Bling, Pink, Purple and Clear in trendy pastel shades that sparkle brightly and contrast with the black silicone to visually stimulate your partner and Booty Bling's 1.4 inch wide flared base ensures safe play. This anal plug is available in both a Small and Large size in the 3 beautiful colors.
Made from Silicone, the Doc Johnson Line of toys are body safe and a great choice for everyone. Always use massive amounts of your favorite Water-Based Lubricant for a more enjoyable experience. It is not recommended to be used with silicone lubes. Open-ended design makes cleanup a breeze, After use just carefully wash the toy with mild soap and water or try the Toy Cleaner for even quicker cleanup. Store this toy separately from other sex toys.
Color: Black, Pink
Materials: Silicone< Plastics
Length: 3 inch
Insertable Length: 2.6 inch
Width: .5 inch(tip), 1.2 inch(bulb), .4 inch(shaft), 1.4 inch(base)
Powered By: You
Weight: 2 oz
Additional Information: classic spade shaped bulb, narrow stem, trendy pastel gem shades, wide flared base, Easy Handheld design, Phthalate Free, waterproof, body-safe, Water Based Lubricant Recommended
These products as with all products on this site are supplied AS IS. No warranty is given either implied or expressed. Products are intended as novelty only, and no representation is made or implied as to their suitability or safety for any particular use. Purchasers use the products entirely at their own risk. The manufacturer or re-seller is not liable for any direct, indirect, incidental or consequential damage or loss howsoever arising caused by use or misuse of the products. This includes, but is not limited to, damage to the products and personal injury or damages due to use or misuse.