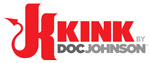 The best gets even better with the Power Wand Cock Teaser Attachment that is clear and attaches to the Kink Power Wand.
This tight, textured head stroker stretches to form a snug fit in clear material that leaves nothing to the imagination, and is designed to perfectly fit the Kink by Doc Johnson Power Wand 16-function Ultra-Powerful Silicone Body Massager's formidable vibrating head or your favorite full-size massage wand. The textured opening of the Kink by Doc Johnson Power Wand Cock Teaser Textured Masturbator Sleeve Massager Attachment gives way to extra large pleasure nubs and finishes with a suction-creating closed end. The Cock Teaser Textured Masturbator Sleeve is a great way to spice up wand play if you're looking for a more broad vibration distribution for him with a super textured interior to offer intense concentrated pleasure on the end of the penis.
The Kink by Doc Johnson is an exciting collaboration with Kink.com to create a collection of high-quality authentic fetish items suitable for long-term practitioners and new initiates alike. Each of these innovative BDSM products are tailored to many types of play, they were designed and manufactured with the approval of the world's leading fetish brand, with the creativity and quality Doc Johnson customers have come to expect. Designed for Both the Existing Scene and Newcomers. Handcrafted from the Highest Quality Body-Safe Materials. And as always, the Doc Johnson Products are proudly made in America!
Made from Durable ThermoPlastic Elastomer(TPE), this Kink by Doc Johnson Line of sex toys is built to take the punishment, body safe and a great choice for everyone. Just add your favorite Water-based lubricant and have a wet n wild time. After use, carefully wash the toy with mild soap and water or try the Toy Cleaner for even quicker cleanup. Store this toy separately from other sex toys.
Color: Clear
Materials: TPE
Length: 3.75 inch(overall)
Width: 3.25 inch(overall), 2 inch(wand attachment)
Powered By: Kink by Doc Johnson Power Wand 16-function Ultra-Powerful Silicone Body Massager
Weight: 6 oz
Additional Information: Stroker Attachment Stimulates Head of Penis, Extensively Textured Interior, Visually Stimulating Clear Material, Closed End Creates Suction, Stretches for a Snug Fit, For Use with Kink Power Wand, Fits Most Wand-Style Vibrators