Reach your goal and get the gains you're after with the LAPD LA Pump FTM Clitoral Enlargement Cylinder 4 inch with AirLock Release Valve.
The specially designed Female to Male(FTM) Cylinders from the pumping experts at LA Pump will allow you to enlarge your clitoris to create a longer and thicker looking phallus. As you're going through your transition you will begin to embrace the wonderful new ways your body is changing but sometimes you may find that your body needs a little boost. Using a Vacuum-style Pump is one of the easiest methods for trans men to achieve clitoris enlargement, also known as clitoromegaly, the FTM Cylinder also offers intense genital stimulation and growth potential.
The LA Pump are crafted from industrial grade clear acrylic and this shorter one is approximately 4 inches long with a inner diameter of 1.25 inch for those just starting to pump. As an FTM cylinder, it has a wider base than a traditional Penis style Pump Cylinder for a more comfortable experience while pumping.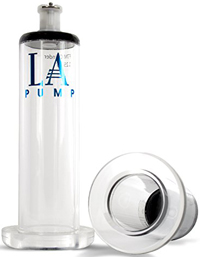 All of the LA Pump cylinders use the same airlock release system that is the gold standard in the pumping world and allows for hands-free use when you get to your desired pressure. Enjoy the extra sensitivity and watch your genitals grow. Use on its own or alongside your testosterone supplement regimen or topical creams and soon your clitoris will become the penis you've been after.
By creating even and persistent negative pressure on the clitoris, you will experience swelling and enlargement of the clitoris itself. The results of using these vacuum pumps can vary based on individual anatomy the frequency and rigor of use, and existing clitoris size. You can pump and then release the pump and leave the cylinder attached, the length of time is up to you but daily use brings results. Always apply a Gel Lubricant for best tight seal no matter how wet you are. Some guys are able to use small cockrings or the favorite are the lasso or cinch type you can adjust while pump cylinder is attached. Then you can show off your boner.
L.A. Pump offers a unique line of hand crafted, diamond cut, flame polished cylinders for enlargement of the penis, penis and balls, nipples, and foreskin through hyperemiation also known as Vacuum Pumping. The LAPD LA Pump products are designed with safety, comfort and maximum size gain. Each one of the Cylinders are individually hand crafted to YOUR size specification for comfort and the best vacuum seal without the use of awkward rubber gaskets, Click here to find the right size for you. We offer one of the widest ranges of cylinder sizes in the industry. The clear cylinders are made of advanced polymers for maximum pumping results.
All of the LA Pump cylinders include a quick connect/disconnect safety valve that allow for disconnection from the expansion tube while maintaining the vacuum you have chosen. The pricing is often below the "one size fits all" and "two custom sizes" models offered in most adult/porn shops. All of the vacuum pumps are made of high quality materials and are easy to clean. These electric or hand-operated pumps may also be used to treat impotence, premature ejaculation, and to increase sex drive and sexual performance, and are doctor recommended for that purpose.
All of the LA Pump FTM cylinders have a 1.25 inch wide inner diameter and is available in 3 sizes to fit your needs in 3 inch, 4 inch and 5 inch lengths. This cylinder does not include a hand pump or hose but works great with the LA Pump Deluxe Brass Hand Pump with Pressure Gauge, sold separately. Enjoy watching your clit grow with proper use.
Measurements:
3 inches in length (not including tip), 1.25 inch inner opening diameter
4 inches in length (not including tip), 1.25 inch inner opening diameter
5 inches in length (not including tip), 1.25 inch inner opening diameter
Material: Polycarbonate, ABS plastic, metal
Note: Pump is sold separately.
Disclaimer: These products as with all products on this site are supplied AS IS. No warranty is given either implied or expressed. Products are intended as novelty only, and no representation is made or implied as to their suitability or safety for any particular use. Purchasers use the products entirely at their own risk. The manufacturer or re-seller is not liable for any direct, indirect, incidental or consequential damage or loss howsoever arising caused by use or misuse of the products. This includes, but is not limited to, damage to the products and personal injury or damages due to use or misuse.
Some resources for FTM Guys: