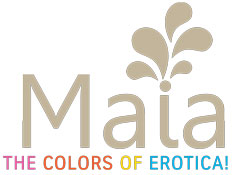 The Power of Color Therapy by Maia Toys.
Be a bigger, stronger man, and get larger than life with the Jackson Rechargeable Penis Enlargement Pump from the Maia Man Collection of male sex toys and accessories. This penis enlargement device feature 3 magical suction power settings and a soft vacuum seal, Jackson is sure to make you the ultimate man. Once you get to your desired size you then slide a silicone cockring to the base of your penis for a rock hard meat sword ready for battle. The buttons are easy to use and understand along with a quick air release button that will evacuate the pressure when you are finished or if you have any other issues. Made from medical grade PolyCarbonate and high quality ABS plastic, the Maia Adam Jackson Rechargeable Penis Enlargement Pump gives you larger, firmer erections, for longer. Plus, Jackson is rechargeable, so you'll always be ready to rock.
Most of the Maia Toy collection are Eco-friendly intimate pleasure devices since they rechargeable so you don't have to keep buying lots of batteries. The USB powered charger for the Jackson Penis Pump is included so you can plug into your computer or a wall plug to keep the fun going, You'll never run out of power. Color therapy aims to balance our body's energy centers or chakras by using the colours of the light spectrum, which can help to stimulate our body's own healing process. The Maia Man line of toys is our first luxury collection for men. They are distinguished by their extraordinary looks and the powerful sensations they provide. The Maia Man Collection of products are made from medical grade silicone conditioned to be soft & smooth to the touch.
Made of Phthalate-free Medical Grade PolyCarbonate with a soft ThermoPlastic Elastomer(TPE) pump sleeve, always use a good water-based lubricant gel to get a good tight seal with the Jackson Penis Pump. It is not recommended to be used with silicone lubes. After use, carefully wash the toy with mild soap and water or try the Toy Cleaner for even quicker cleanup. Store this toy separately from other sex toys.
Color: Grey, Clear, Neon Orange
Materials: PolyCarbonate, ABS Plastics, TPE
Length: 11.25 inch
Inside Length: 7.5 inch
Width: 2.375 inch(bottom), 2.875 inch(top)
Inside Diameter: 2.125 inch
Powered By: Rechargeable batteries with USB charge cable
Weight: 1.7 oz
Additional Information: easy to use controls, size gauge molded in, USB rechargeable, color therapy, Phthalates Free, Fully Waterproof, Unisex, Water Based Lubricant Recommended