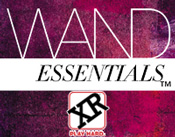 Let your partner control your desire and pleasure from 15 feet away!
With the XR Brands Wand Essentials EZ Touch Wireless Remote 5-Speed Wand Controller turn your standard wand massager into an ultra-powerful remote control massager when you combine this useful accessory with a Dial-Style Wand such as the legendary The Magic Wand Original 2-speed Massager or massage wands to gain more versatility than ever before. The EZ Touch Wireless Remote 5-Speed Wand Controller has clearly labeled buttons to make it easy to switch between 5 speed settings, even on a 2 speed power wand! Add more convenience and excitement to your massage routine. Just plug your wand into the power box, which plugs into the wall. Your remote control then offers you, or your massage partner, the ability to explore relief and relaxation from up to 15 feet away!
Enhance your wand experience. Transforming the classic vibrating massager into a wide variety of exciting stimulators, Wand Essentials offers the most innovative and extensive wand and attachment selections available! For those who desire more power from their vibrators, Wand Essential delivers with more capability in battery-operated, rechargeable, and corded options! Designed to amplify the sex lives of women, men, and couples, each wand and topper provides endless opportunity for ecstasy.
Made from body-safe ABS Plastic, this massager accessory is body safe and a great choice for beginners. Just add your favorite Water-based lubricant and have a wet n wild time. After use, carefully wash the toy with mild soap and water or try the Toy Cleaner for even quicker cleanup. Store this toy separately from other sex toys.
Color: White, Blue
Materials: ABS Plastic, Metal, Rubber
Length: 4 inch(remote)
Insertable Length: NA
Width: 1.5 inch(remote)
Powered By: 2 AAA Batteries(remote), 110V US Plug
Weight: 8 oz
Features: 5 speed optios, works with all Dial Style wand massagers, remote control, Phthalates free,