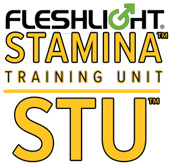 Practice makes perfect, especially in the bedroom.
The FleshLight Pink Lady Stamina Training Unit STU Stroker Male Masturbator is a sex toy for men was specifically designed to replicate the intense sensations of intercourse, which can help users increase sexual stamina, improve performance and techniques, and heighten and intensify orgasms. The key to lasting longer in bed and becoming the lover that every girl dreams about is not a cream, not a pill, and not a potion... it's PRACTICE.
The STU is tighter than the original Fleshlight with stimulating textures, the unit offers you pleasure while enabling you to become a better lover. If you can last 10 minutes in the STU, you can last 20 minutes in bed with anyone. Are you training for a marathon that will keep you up and running for hours at a time? Or maybe you're looking to push yourself and power through your stiff competition with unbridled strength? Either way, the Stamina Training Unit by Fleshlight is the perfect accessory.
Just like your college track coach, our device will train you long and hard for any race you want to compete in. The Stamina Training Unit amazingly replicates the sensations of sexual relations and forces you to be better in bed, something you may have fantasized about the hot track coach teaching you as well.
When you masturbate using the Fleshlight STU, not only will you be improving your sexual stamina and techniques, you'll experience the intense orgasms that can only be achieved by using Fleshlight sex toys for men. If you want to last longer you have to practice, this sounds simple, but until now the only option to effectively train has been to have sex itself. That's like asking David Beckham to practice his penalties only during games! Whether you are looking to improve your skills or maintain your abilities, this is the one single product that can exalt your status to that of a sexual legend.
The Fleshlight STU is available in the Pink Lady STU, the Mocha Lady STU as well as the FleshJack Pink Butt Endurance Jack STU. To save money and have everything needed to train immediately out of the gate, grab one of the Fleshlight Value Packs that have refresh powder, lube, wall mount and toy cleaner all in one box, also works great for a bachelor party gift.
Far beyond the average ordinary simulated skin material, Fleshlight's signature Superskin is elastic and soft, easily maintaining shape and warming naturally with touch and friction. Like all Fleshlight models, the inner suction can be adjusted easily with the small cap on the bottom, a looser fit will decrease the inner friction, while a tighter twist will tighten it up. To play with temperature even more, soak the sleeve in warm water before use, and heat up your Water Based Lubricant while you're at it. Styled like a traditional flashlight, the gold-colored FleshLight Stamina Training Unit STU Male Masturbator is shaped to maximize grip and control.
Wedge the firm casing between couch cushions or pillows to ride hands-free, or try out a specially designed mount that simulates sexual positions like doggie style, missionary and guy-on-top (sold separately in our Fleshlight section). The PhoneStrap can be used to Discreetly watch your favorite pornstar without having to hold or prop up your phone or tablet. Keep your phone or mini tablet handy as a "second screen" while watching TV. Video chat with your partner from a more suggestive angle that can show more than your face. You can add some accessories like the LaunchPad Device for Tablets for even more fun on the go. For the ultimate experience pair your STU with the Fleshlight Kiiroo Launch Bluetooth-Enabled Rechargeable Automatic Stroking Machine.
Making for quick clean-up, the entire unit easily disassembles. To clean your Fleshlight and have it ready for the next session, rinse thoroughly with warm water, avoid using any soap, for tougher cleaning jobs, try the FleshLight Fleshwash Anti-Bacterial Toy Cleaner it works well. It's important to let the insert dry completely before storing it away, so leave it out until then. With regular use, the sleeve might get a bit sticky, if this happens, just sprinkle it liberally with cornstarch or FleshLight Renewing Powder to restore softness and if you plan to store it also coat it with the powder. Store this toy separately from other sex toys.
What You Get:
Our patented SuperSkin masturbation sleeve with a pink lady vaginal outside orifice and a specifically-designed inner canal texture
Exclusive Gold Fleshlight case
FREE e-guide for increasing your stamina
Trial-size lubricant