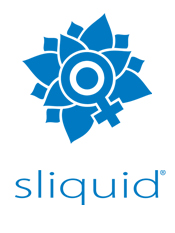 Looking to bring some zing into the bedroom?
Sliquid Naturals Sizzle is a water-based stimulating personal lubricant that cools on contact, warms with friction. Naturals Sizzle is made especially for those who are looking for a little extra sensation from a personal lubricant. Formulated with food grade menthol, Sizzle has the effect of being both warming and cooling at the same time, while maintaining its glycerin and paraben-free female friendly status.
All Sliquid products are formulated by sensitive women, for sensible women. After use, carefully wash your body and/or toy with mild soap and water or try the Toy Cleaner for even quicker cleanup. From top to bottom, Sliquid is made in the USA, Dallas Texas to be exact, using 100% recyclable packaging. Stay green!
Ingredients: Purified Water, Plant Cellulose (from Cotton), Cyamopsis (Guar Conditioners), Food Grade Menthol, Potassium Sorbate, Citric Acid.
Ingredients: 4.2 oz