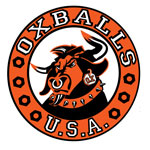 When you want a ball stretcher that offers comfort and discipline without losing its grip, Morph is the one.
The OxBalls Morph Curved Silicone Ball Stretcher in Black is a thick squishy tube of pure silicone designed to stretch your sack low with 3 inches of external length. The soft material and curve shape Morph to fit your nuts and cling to you like a second skin. The Morph Silicone Ball Stretcher has a 1.67 inch outer diameter and just 1 inch of inner diameter but will stretch to fit almost any sack. Each end of Morph is tipped with a blubbery rim that gently rests on your sack and pushes your balls down for an all day stretch. The outside of Morph is covered in a cyber-sleek geometric pattern that keeps its shape and strengthens any stress points to prevent tearing. Also available in Blueballs Metallic Blue and Black.
Wear the Tar Black OxBalls Morph Curved Silicone Ball Stretcher facing forward and it pushes your nuts back between your legs. It looks and feels fuckin' hot swingin' back and slappin' on your thighs. Wear it facing backwards and it shoves your nuts forward…easy access for some CBT or feelin' your balls bangin' on your hand while you jerk your junk. Sack stretching can be a lengthy process, which is why we use Pure Platinum grade silicone to make our stretchers. It's the closest thing to flesh out there and it won't irritate your skin even after hours and hours of use. Silicone is softer and more flexible than neoprene or leather and it doesn't start to develop that funky smell over time (trust us, we know just how funky ballstretchers can get), it's also a cinch to clean with mild soap and water or try the Toy Cleaner for even quicker cleanup.
Hell, the OXBALLS silicone made in-house is so tough that you can even run it through the dishwasher. Wear the Morph Curved Silicone Ball Stretcher while running errands or to the gym and enjoy the feel of your sweaty ballbag swingin' loose n' low in a thin pair of workout shorts…dudes will be droolin' all over your obscene bulge snaking down your leg. Morph has a grippy stretch that really keeps those nuts down in their sack, but unlike neoprene, the Morph does not lose its shape and grow bigger over time, after all, you want your sack to grow bigger, not the toy stretching it.
The body-safe Pure Platinum Cure Silicone material is soft and flexible but rigid enough for intense sensations. Just add your favorite Water-based Lubricant and have a blast. It is not recommended to be used with silicone lubes. After use, store this toy separately from other sex toys.
Color: Black
Materials: Pure Platinum Cure Silicone
Outside Diameter: 1.67 inch
Inside Diameter: .95 inch
Length: 3 inch
Powered By: You
Weight: 2 oz
Disclaimer: These products as with all products on this site are supplied AS IS. No warranty is given either implied or expressed. Products are intended as novelty only, and no representation is made or implied as to their suitability or safety for any particular use. Purchasers use the products entirely at their own risk. The manufacturer or re-seller is not liable for any direct, indirect, incidental or consequential damage or loss howsoever arising caused by use or misuse of the products. This includes, but is not limited to, damage to the products and personal injury or damages due to use or misuse.