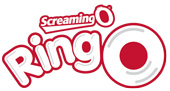 Add a touch of luxury to your next intimate encounter with the larger silky smooth liquid silicone RingO Ritz XL.
An innovative breakthrough in cock rings with 3 times the stretch, the Screaming O RingO Ritz XL Black Liquid Silicone Erection Enhancer Penis Ring takes the bestselling original RingO and kicks it up a notch. 20% larger than the RingO Ritz, the RingO Ritz XL provides a custom, comfortable fit while offering a velvety touch and pliable feel. The erection enhancer pros at Screaming O crafted this ring from ultra-soft, mega-stretchy liquid silicone, allowing a firm yet comfortable grip with a soft, supple feel that has a spring to it. You get an unstretched inner diameter of 1.2 inches but has the ability to stretch more than 3 times that size while returning right back to its original size every time. Phthalate and latex free, body-safe Black Liquid Silicone is a premium material prized for its safety, strength, and unique silky texture, making it an ideal choice for amorous pursuits.
Easy to clean using soap and warm water, the Black RingO Ritz XL will retain its luxurious feel for many playtimes to come. The RingO Ritz is available in Black, Red and Blue, it's also available in the RingO Ritz for those looking for a smaller ring or want to add a cock ring to your play with a 1.2 inch outer diameter. Using a Water-based lubricant can help make it easier to put on, just take care not to accidentally pull on pubic hair!
And the best part, The Screaming O RingO Ritz XL is made of Liquid Silicone it's best to use a Water Based Lubricant with the Screaming O line of toys. Always clean before and after use plus between partners. After use, carefully wash the toy with mild soap and water or try the Toy Cleaner for even quicker cleanup.
Color: Black
Materials: Liquid Silicone
Inner Diameter: 1.2 inch
Width: 1.8 inch
Thickness: .3 inch
Powered By: You
Weight: 2 oz
Additional Information: Seamless stretch-to-fit design, Wide flat band for firm, stay-put fit, Medical-grade, body-safe material, Waterproof, Latex & Phthalate-free