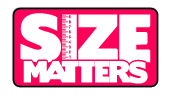 The Size Matters Breast Enhancement System is exactly what you need to give yourself fuller breasts.
Each cylinder is made of industrial strength crystal clear acrylic and will fit comfortably over your breasts. With this system you can enhance your breasts to a nice full size in no time! Just fit the cylinders over each breast and start pumping. Use the gauge to help get you to your full potential! Kit contains premium handle pump with gauge, split connector hose, and 2 air lock breast cylinders.

Measurements: Cylinders are 4.5 inches inner diameter and 4.25 inches deep
Material: Acrylic, PVC, ABS, Metal
Disclaimer: These products as with all products on this site are supplied AS IS. No warranty is given either implied or expressed. Products are intended as novelty only, and no representation is made or implied as to their suitability or safety for any particular use. Purchasers use the products entirely at their own risk. The manufacturer or re-seller is not liable for any direct, indirect, incidental or consequential damage or loss howsoever arising caused by use or misuse of the products. This includes, but is not limited to, damage to the products and personal injury or damages due to use or misuse.