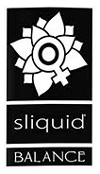 The Sliquid Soak is a Luxurious and Gentle Bubble Bath.
Formulated without any of the harsh chemicals usually associated with bath products, the ingredients in the Cherry Blossom Soak Bubble Bath combine to offer a moisturizing soak experience that will transport your mind to the center of a Japanese garden filled with Cherry Blossom trees. Immerse your senses in this aromatic, foaming bath soak that is both soothing to the skin and gentle on the most intimate areas. Glycerine and paraben free, Sliquid Balance Soak Cherry Blossom Foaming Bubble Bath in an economically sized 8.5 oz bottle is infused with decadent lemon essentials oil, natural sea salt, and shea butter to create a luxuriant, in-home spa experience. The Balance Soak is also available inSliquid Balance Soak Limoncello Foaming Bubble Bath .
The Balance Collection is Sliquid's line of Spa products, and the newest addition to the family. The Balance Collection features the Soak Bubble Bath, Splash Gentle Feminine Washes, Smooth Intimate Shave Creams, and our natural nut & seed based Massage Oils. These Sliquid products are designed to help you feel your best, before you get to the bedroom. Relax, Refresh, Rejuvenate with Sliquid!
Available in Cherry Blossom and Limoncello
Formulated with Sea Salt, Mango and Shea Butter
Made with only the highest quality of ingredients
Glycerine and paraben free
Free of propylene glycol & glycerol
pH balanced neutral
Always 100% Vegan friendly
100% Recyclable packaging
100% Made in America
Ingredients: Purified Water, Cocoamphoacetate*, Coco Betaine*, Lauryl Glucoside*, Cocamidopropyl Hydroxysultaine*, Shea Butter, Mango Butter, Cherry Essential Oil Fragrance, Sea Salt, Potassium Sorbate, Citric Acid. *derived from coconut oil.