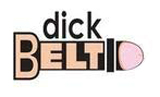 Take Rock out with your Cock out to a hole new level with The Original Dick Belt.
You don't want a Dick Belt. You need The Original Dick Belt Adjustable with Beer Bottle Opener Buckle. Imagine how much fun it will be having a floppable cock at your disposable! Now you will always be able to whip out the D when the time arises. It also makes a great "gag" gift. In Dick Belts - one size fits most! Our buckle doubles as a bottle opener AND is adjustable! Meaning we can cover a waist sizes 32" to 44" and promises a 12 inch flop to everyone! No more throwing a hot dog into an airplane hangar and feeling inadequate!
Too many times in our lives we are presented with situations when you need an instant dick - and now we can fulfill that need with The Original Dick Belt. You can take it to the park, a daycare, the playground - wait, don't take it any place with children- stick to establishments with people over the age of 18 (except Alabama). Use it at the bar, during a game of beer pong, while at court for that speeding ticket or even at your favorite Whole Foods or 7 Eleven. Although we all dream of being a shower or grower on demand, a 24" Dick Belt may not be the best size for you out of the package. Use a car key to loosen the buckle hinge (pictured) to your desired Dick Belt length. Trim the excess or tuck it under your belt. It is recommended you leave a few extra inches than expected - you may need that extra length one day!
You walk into the bar, you see one of your friends talking to a lovely lady - a lovely lady way out of his league. They both make eye contact with you - and you with them. Little does your friend know that as you reach to your waist you are wearing your fashionable dick belt. Business in the front and Long Dong Silver on the back. You pull the belt tail out - anywhere from 12 to 24 inches of it - and you flop that heat-seeking moisture missile between your legs, exposing a glorious piece of cartoon man-meat that is a god among trouser snakes. As their eyes fall toward your Cock-a-Saurus Rex, all you can think is about how much fun you and your friends are going to have with your new Vaginal Depth Detector, The Original Dick Belt by Richard Belt Company. It's time to embrace a brave new world. A world where you can Rock Out With Your Cock Out.
The inventor came up with the concept when I was living with 7 college girls as a 32 year old dude playing beer bong with their 16 year old high school friends. Its a stylish belt with a cartoon dick on the inside – in white and black. Check it out and I'll send you a freebie if you would like. I just launched last week, also have a few photos with the golfer John Daly holding one – he fucking loved it.
Color: Black, Brown, Flesh
What's in it: 1 60" Dick Belt that fits waist sizes 32" to 44"
Materials: Nylon, Metal
Weight: 10 oz