Let's get right to the point!
The PowerBullet's Bullet Point is the hottest, new, 4 inch bullet vibrator that is ready to rock your world! The BMS Factory Bullet Point 10-function Rechargeable Compact PowerBullet Vibrator in Black is one of the most competitively priced bullets out there! PowerBullet has put an exciting twist to the classic bullet shape and added a pointed end, so that the vibrations can travel directly where you want them to go with pinpoint accuracy with a smooth 3 inch insertable length that starts with a .375 inch tip and max girth of .75 inches from shaft to base.
With a simple press of a button, the Black Bullet Point 10-function Rechargeable Compact PowerBullet Vibrator will take you through mild to wild vibrations and everything in between with 10 incredible functions to choose from. This compact Bullet Point Compact Vibrator is perfect for on-the-go adventures and can fit right in your purse, just treat it like it's one of your lipsticks! And you don't have to worry about the vibrations randomly going off, the Bullet Point is equipped with a travel lock feature that ensures discreet travel.
Virtually seamless, the smooth finish provides a deep shine to this Bullet Vibe that is nice to feel and look at, but also have body-safe advantages that allow you to use it on all your most delicate areas. For play off of dry land, bring the Bullet Point into the bath tub or shower – it's waterproof! The BMS PowerBullet is known for their highly advanced motors that produce deep and rumbly vibrations, and this product is no exception. Whether its for massage, couples or solos play, the Bullet Point has something in store for everyone. So, sit back, relax, and allow the vibrations to do all of the talking.
Key Features:
Pointed Tip for Targeted Pleasure
10 Functions
PowerBullet Motor
Body-Safe Material
Compact Size
Travel Lock
Easy to Use
Waterproof
USB Rechargeable
Like all of the PowerBullet powered toys this vibe is eco-friendly since it doesn't require you to try and locate some good batteries when you are ready to play, is USB rechargeable using the magnetic charge cable so there are no ports to get water inside of even though it is completely waterproof and a makes perfect travel companion. Complete charge time: 2 hours; Run time on high: 80 minutes; Run time on low: 100 minutes. Available in 4 colors like Black, Green, Purple and Pink.
With its superior engineering, BMS Enterprises is able to provide intense vibrations, water-resistant features, seductive shapes and beautiful colors opening the doors of pleasure for anyone. Made from Metallic Plated ABS Plastic that's body-safe, just add your favorite Water-Based Lubricant and have a wet time tonight. It is not recommended to be used with silicone lubes. After use, carefully wash the toy with mild soap and water or try the Toy Cleaner for even quicker cleanup. Store this toy separately from other sex toys. The is available in 2 colors .
Color: Black
Materials: Metallic Plated ABS Plastic, Silicone
Length: 4 inch(overall)
Insertable Length: 3 inch
Width: .375 inch(tip), .75 inch(shaft), .75 inch(base)
Powered By: Rechargeable Battery with USB charge cable
Weight: 1.8 oz
Additional Information: 10 functions of intense vibration, pulsation and escalation, Phthalate Free, Latex Free, Water Based Lubricant Recommended, Waterproof
PowerBullet is offered in many different forms as a stand-alone product and a technology.)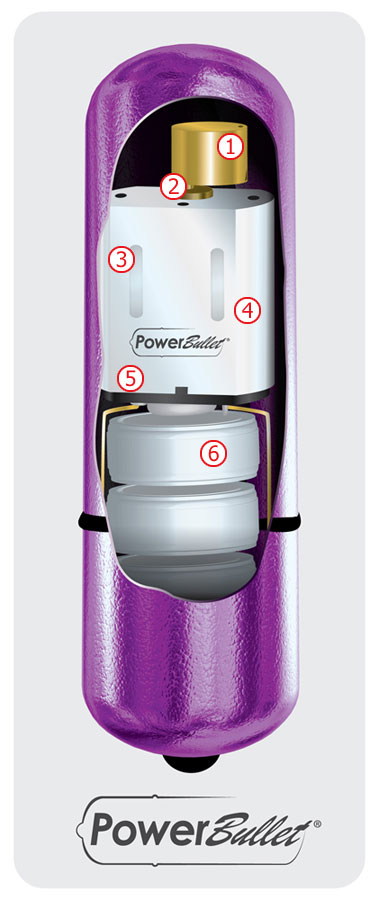 1. PowerBullet vibrations are created with a 100% copper motor wheel that is 60% heavier than the competition's for more powerful vibrations. Others make their vibrations from a bag of compressed powder which is known to deteriorate over time.
2. The clearance between the spinning copper head and the motor itself is smaller by 20%. This smaller distance translates into less noise emitted from the vibrator.
3. PowerBullet is 20% faster to create more intense vibrations than others.
4. Uses 3 LR44 batteries*
5. PowerBullet's starting voltage is .25 V, while our competitors' are .60 V. When the battery's charge is weak, our motor will still work.
All PowerBullet motors show the PowerBullet logo inside the casing on the actual motor. While many people may not ever see this, it is a great way to tell if a product is authentic PowerBullet or not if needed.
6. PowerBullet uses thick wire windings inside its motor which are over 80% thicker than the competitor's. The larger the diameter, the larger the electric current which translates into more powerful and efficient operation.
How did PowerBullet get its name?
The undying demand for more power committed us to make a bullet that would "rock your world." The first single-speed prototype provided unbelievably powerful vibrations from such a small source. It would amaze people who turned it on for the first time, and many of them have been in the industry for many years. Even better, it would often run continuously for up to an hour. PowerBullet is the most fitting name for something with this kind of power hidden in a tiny shell.
Why have 1-Speed and 3-Speed?
PowerBullet intimidated some first timers or casual users with its enormous power, so the 3-Speed was born to accommodate everyone. The 3-Speed has the same power as the original but at the push of a button it switches between low, medium, and high speeds.
What is "Press & Hold?"
The "press and hold" function is a new twist on our traditional 3-speed bullet. It incorporates multi-speed levels along with the length of time you press down on the button. Made to engage the human instinct to touch and hold, the famous PowerBullet now has you holding on for more power!
*This particular PowerBullet design uses LR44 batteries. PowerBullet is also a brand and has different power sources depending on which product it is powering.