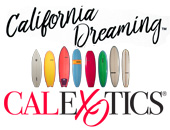 Dive deep into pools of pleasure and sun-kissed fantasies with the posh California Dreaming Bel Air Bombshell.
The luxurious CalExotics California Dreaming Bel Air Bombshell 13-function Rechargeable Silicone Rabbit Vibe with Rotating Beaded G-Spot Shaft has 10 intense vibration functions, 3 independent shaft rotation functions and a unique triple teaser for one-of-a-kind pleasure experience. The seamless silicone body and flickering teaser put out knee-shaking stimulation in and out of the water. Whether you're looking to turn up the heat with a lover or just enjoy some sensual solo time, this ravishing Rabbit Vibe with Rotating Beaded G-Spot Shaft is ready.
While contoured bunny teaser on the Bel Air Bombshell 13-function Rechargeable Silicone Rabbit Vibe flickers and moves with your body, the 3 speeds of rotating beads in the shaft deliver thrilling g-spot stimulation. Control and customize your pleasure play with the independently controlled shaft rotation functions and teaser vibration functions. The knee-shaking gyrations packed into this playful Bel Air Bombshell Rabbit Vibe aren't for the faint of heart! Triple power motors put out deep rumbling vibrations.
3 speeds of rotating beaded action plus vibration in the shaft
Triple fluttering teaser with 10 functions of intense vibration in the stimulator
Triple motors
Pure silicone
Independently operated shaft and stimulator
Memory chip resumes on last function used
Safe for use in or out of the water
Body safe, unscented, phthalate free
Easy push-button controls with security travel lock feature
USB rechargeable with self-sealing port
MEASUREMENTS: Shaft: 5" x 1.25" Stimulator: 2.25" x 1"
When you're ready for fun simply press the button, location in the shaft base, and cycle through the functions. Hold for 3 seconds to turn off. This Cal Exotics toy features a state-of-the-art memory chip that will resume on the last function used. This feature allows you to re-ignite the pleasure, right where you left off. No matter which option you choose, this rabbit offers relentless power to satisfy any pleasure seeker.
You will never have to look for batteries because this high-end vibe uses rechargeable batteries that are charged via USB with a PC/Laptop USB port and a self-sealing port in the base. Recharge the Cal Exotics California Dreaming massager in 2.5 hours with the provided USB charging cable to enjoy 45 minutes of high-speed stimulation or 2.5 hours of low speed vibrations. The waterproof massager is suitable for first-time users and experienced explorers and can be used in the shower, bath or hot tub.
The Cal Exotics California Dreaming Collection is made from hypoallergenic premium silicone and ABS Plastic that is body safe, unscented and phthalate free to keep you most sensitive spots, happy and healthy. All of the materials are safe to use with your favorite Water-Based Lubricant. After use, carefully wash the toy with mild soap and water or try the Toy Cleaner for even quicker cleanup. Store this toy separately from other sex toys. Comfort, style and pleasure are all rolled into one!
Color: Teal Blue
Materials: Silicone, ABS Plastic, Metallic Plating
Length: 8.5 inch(overall), 2.625 inch(clit stimulator)
Insertable Length: 5 inch
Width: 1.25 inch by 1.5 inch(tip), 1.25 inch to 1.375 inch(shaft), .5 inch to 1.1 inch(clit stimulator), 1.875 inch by 1.5 inch(handle/base)
Powered By: Rechargeable Batteries with USB charge cable included
Weight: 9.2 oz
Additional Information: 3 speeds of vibration and 3 speed of thrusting "G" action, unique teaser with a sensual clitoral simulator, 10 functions of vibration, pulsation and escalation, Waterproof, Multispeed, Multi-Function, Gyrates, Vibrates, G-Spot, Single Entry, Phthalate Free, Vibrates, Water Based Lubricant Recommended, waterproof