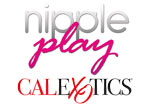 Experience increased stimulation with the sensual weights.
The CalExotics Nipple Play Nipple Grips 4-Point Weighted Nipple Press is designed for sensational nipple play. Tighten the screws to exactly the pressure you desire, and let each of the 1.5 oz weights on the Nipple Grips 4-Point Weighted Nipple Press gently pull and tug, move and sway with the body on the 1.4 inch long black coated chain for even more intense pleasure. These clamps allow you to play any way you desire. While you're playing, the Nipple Grips provide different sensations with every move you make.
The Nipple Play Nipple Grips 4-Point Weighted Nipple Press has 2 multi-use fully adjustable, screw-down 4-point press clamps with their .75 inch x .75 inch open width, let you control the pressure, play with both, or use just one at a time, you can use them alone or with a partner. Screw them tighter, or loosen for a totally customizable pleasure experience, the fully-adjustable design allows for use on all body types. They look sexy while also providing added sensation.
These easy-to-use nipple teasers are great for him or her. The CalExotics Nipple Play Nipple Grips comprises of a pair of fully adjustable, non-piercing nipple adornments that are comfortable to wear, and erotically fashionable. Use the decorative jewelry for seduction or fetish play, One size fits most. Perfect under your favorite outfit, or without anything at all, suitable for all day wear.
Lovers of extended nipple play will enjoy the additional visual stimulation that the Celtic-style design has with black ball weights. Surprise your lover by slipping on the nipple jewelry and issuing an invitation to play. To heighten the sensual sensations apply arousal gel directly to the nipple, for a long lasting erect nipple effect. Before and after every use, clean the nipple jewelry with a Toy Cleaner spray. The CalExotics Nipple Play line of toys are made of high quality materials that are phthalate free and waterproof. Store this toy separately from other sex toys. Comfort, style and pleasure are all rolled into one!
Color: Black, Silver
Materials: Nickel-Free Alloy, Iron
Length: 4 inch(overall)
Width: .75 inch x .75 inch(internal width), .875 inch(ball weight), 1.625 inch(overall)
Powered By: You
Weight: 4.6 oz
Additional Information: adjustable clamps, variable rate of tension, Body-safe, Multi Function, phthalate free, Water Based Lubricant Recommended, waterproof