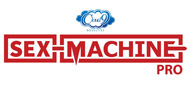 The 3rd generation of the Cloud 9 Pro is stronger, faster, more stable, easier to adjust, stiffer and more versatile than ever, plus it ships for FREE.
The Cloud 9 Pro 3 Fully Adjustable Sex Machine with Wired Controller & Bonus Accessory Kit delivers incredible power, angle adjustability & performance at an incredibly low price for a machine with great features. Enjoy one of the best built Sex Machines on the market for Couples or Solo Play. Its 18 inch long shaft rod can be extended to suit the distance you require and the adjustable / removable front & rear legs to help obtain the perfect angle whilst the thrust rod can be adjusted to suit the desired reach.
The Cloud 9 Pro 3 Fully Adjustable Sex Machine features a 6 position quick change crank arm from 1 inch to 6 inch thrust and a hand held annotated remote control for precision speed adjustment 0-240 rpm. This Gen II PRO Sex Machine includes a bonus accessory kit with a value of $200 that includes a universal mount adapter plate for all dildos, 1 Vac-U-Lock adapter, and 1 Flexi spring dildo amount. This kit allows you to use your own collection of dildos at home with the universal mounts. You can use any Vac-U-Lock attachments with the included dildo mount. You can also attach a FleshLight Male Toy using the optional Rocky Attachment.
The is now an easy to set up one-piece construction with no tools required legs. There is a Variable speed control with wired remote control, 4 Heavy Duty Suction Cups included for wood or tile floor use and Adjustable thrust length with one easy to adjust flywheel knob. Some of the enhancements are that the power supply has been removed from the machines body allowing easier movements and adjustability of the machine. The power supply has also been improved. High quality motor connector (allows the complete disconnection of the power supply from the machine). Power switch with functioning LED. 110/240 volt switch allowing for universal use around the globe. A new cable gripper for the remote control. This allows the easy disconnection of the remote control from the circuit board should there be an issue with the remote control e.g. damaged cable.
Newly design quick change crank. The thrust depth can now be changed in a split second & with one hand. Simply turn the adjust knob 1/4 of a turn to unlock the crank, slide to desired position the lock again. You can also see the new twin bolt pinch clamp fixing which means no more loose cranks or damaged grub screws. New warning sticker warning consumers of the potential danger of the moving parts. Adjuster knobs now have smoother profile (more comfortable to use) & the grub screw is larger for added strength. The remote control is attached to the power supply and the machine is now simply plugged into the power supply when you are ready to use it. New more powerful 90 degree motor with quality 2 pin metal connector (connects to power supply with locking ring). The motor is now powder coated for improved durability & finish. New injection molded leg clamps.
Color: Black
Materials: All major components CNC machined from aircraft grade alloy and plastics
Height: 18 inch
Length: 21 inch
Width: 18 inch
Powered By: You
Weight: 50 lbs
Disclaimer: These products as with all products on this site are supplied AS IS. No warranty is given either implied or expressed. Products are intended as novelty only, and no representation is made or implied as to their suitability or safety for any particular use. Purchasers use the products entirely at their own risk. The manufacturer or re-seller is not liable for any direct, indirect, incidental or consequential damage or loss howsoever arising caused by use or misuse of the products. This includes, but is not limited to, damage to the products and personal injury or damages due to use or misuse.