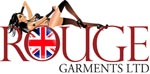 Hit the spot every time you are at bat.
The graceful curves of the Rouge Garments 11 inch Dual Ended Stainless Steel Wand Dildo With Case glide smoothly against your body, and the two differently-sized ends are slightly angled for g-spot or p-spot prostate stimulation without any vigorous thrusting. Both ends of the 11 inch Dual Ended Stainless Steel Wand Dildo are super-smooth and bulbous that have a slight tilt, but one is larger at 1.96 inches wide and the other end is smaller at just 1.57 inches wide.
The smooth shiny shaft of the Dual Ended Stainless Steel Wand gradually gets slimmer as you slip away from each head with a 1.375 inch girth. This means that this dildo will be top heavy or vice versa depending on which way you are holding it, you can use either end to penetrate butts, vaginas and more. One side of the 11 inch Dual Ended Stainless Steel Wand Dildo features a series of 4 grooves cast in to provide you with even more sensations as it works, and the can even be placed in warm or cool water for some exciting temperature play. The solid design lends an impressive weight to this steel masterpiece.
Seriously perfect for controlled massage of yourself or your partner, the Rouge Garments 11 inch Dual Ended Stainless Steel Wand Dildo's monstrous 2.2 pound weight naturally applies intense pressure and direct connection to your favorite Spot whether it is G, P or wherever feels good. Very little movement on your part or theirs will be required; the Wand's shape and weight does practically all the work. Users have told us that laying on your stomach while using allows the weight to apply just enough pressure on the g-spot or prostate for amazing stimulation and full body orgasms. It is available in a small 7 inch or an 11 inch.
It's made of body-safe stainless steel. We recommend a good quality Water-Based Lubricant to be used for easy insertion and have a wet n wild time. It is not recommended to be used with silicone lubes. After use, carefully wash the toy with mild soap and water or try the Toy Cleaner for even quicker cleanup. Store this toy separately from other sex toys. Based in the UK, Rouge Garments create high quality BDSM accessories using leather specifically chosen and bought direct from proven and trusted tanneries.
Color: Silver
Material: Stainless Steel
Length: 11 inch(across)
Insertable Length: 10 inch
Width: 1.57 inch(small ball), 1.375 inch(shaft), 1.96 inch(large ball)
Powered By: You
Weight: 45.8 oz
Additional Information: Dual ended, g-spot or p-spot curved, body-safe, medical grade stainless, firm probe, Water Based Lubricant Recommended, Waterproof.
Disclaimer: These products as with all products on this site are supplied AS IS. No warranty is given either implied or expressed. Products are intended as novelty only, and no representation is made or implied as to their suitability or safety for any particular use. Purchasers use the products entirely at their own risk. The manufacturer or re-seller is not liable for any direct, indirect, incidental or consequential damage or loss howsoever arising caused by use or misuse of the products. This includes, but is not limited to, damage to the products and personal injury or damages due to use or misuse.