Putting the FUN back into Function.
For fun and functionality, this silicone packer is everything you need. Soft enough to be worn under clothing yet firm enough for play, it's the perfect dildo for all occasions. With our proprietary tubing, custom tip and syringe function, this is the first squirting pack and play on the market! It can be used with o-ring harnesses and is completely hypoallergenic and body-safe.
The Tantus Pop! n' Play Squirting Silicone Packer Dildo in Cream is a novelty strap-on dildo, which allows you to have sex and create an ejaculation in the sexiest way possible! No More Turkey Basters! The Pop! Ejaculating Dildo was specifically designed inner tubing embedded inside the shaft, with an attached pump, intended for people to be able to mimic intercourse and ejaculation. Available in Cream, Honey and Espresso.
Made from Health-Grade Silicone
Can be Worn As Packer And Used for Play
Smooth Texture for Easy Insertion
O-Ring Harness Compatible
Hypoallergenic
Phthalate-Free, Body-Safe
Warms to Body Temperature
Top Rack Dishwasher-Safe
The Tantus Pop! n' Play Squirting Silicone Packer Dildo has a very manageable size that is not too big or too small with a 1.25 inch wide head that leads down to a 1.25 inch wide, 4.25 inch insertable shaft. The wide 3.25 inch wide base sits flat on a table, it also works great for a handle or to hold the Pop in an O-ring strap-on harness like the very popular SpareParts Hardware brand for hands-free, more natural fun. For realistic lube to use with your new dildo you can try the POP! Hybrid Water/Silicone-based Lubricant.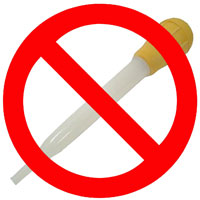 For Same Sex Couples - No more using turkey basters or syringes to mimic an ejaculation with your partner – Pop allows you to have a very realistic and intimate experience whenever the mood strikes. Pop is ideal for a lesbian couple or a single woman who wants to re-create the feeling and experience of traditional ejaculation in the privacy of their own home.
60% of women and lesbian couples use novelty sexy toys in the love making process. Often, these women wish they had the ability to use a "device they could wear during intimate moments that safely and authentically mimics traditional ejaculation," and now, with Pop®, that option is finally available. This product changes the way women make love, bringing intimacy and authenticity back into the bedroom. Pop also makes it possible for women and lesbian couples to go beyond cold and lifeless turkey-basters and syringes, with the ability to mimic traditional intercourse and the ejaculatory process, in hopes of conceiving with love.
For Men with Erectile Dysfunction or Disabilities - Erectile dysfunction commonly referred to as ED, is the inability to achieve and sustain an erection suitable for sexual intercourse. According to the National Institute of Health, approximately 5% of 40-year-old men and between 15% and 25% of 65-year-old men experience ED on a long- term basis. If you experience ED and want to be able to use a toy that can provide you with the ability to maintain an erection and mimic an ejaculation, The Pop! is a great solution. Pop is also great solution for men that have a physical disability that prevents them from being able to maintain an erection and then also mimic an ejaculation.
For Fetish and BDSM Play - Looking to satisfy that inner kink? Do you enjoy role play and BDSM play? Love the idea of being able to ejaculate on command? Pop! puts the power in your hands and in your pants! Use Pop with lube or homemade fake cum and proceed to Pop your load anywhere!
For Trans - Pop is an amazing option for the transgender community, fitting into almost any harness, allowing it to be worn by anyone at any time. The Pop! Ejaculating Realistic Dong is not designed to be a "pack and play" dildo – however, it can be used for penetrative sex, making it a great option for the transgender community – specifically, the FTM (female-to-male) community. Since Pop is designed to mimic the traditional ejaculation process, it allows the wearer to finally be able to mimic an ejaculation in a realistic and sexy way!
For Pegging - Are you a guy who is open minded and willing to explore and try new things in the bedroom? Or maybe you are a woman that is curious about strapping on a dildo and doing your man? Want to introduce your partner to a whole new world of pleasure? Pegging is a sexual practice in which a woman penetrates a man's anus with a strap-on dildo and Pop is the perfect toy for you! Not only do you get to penetrate your man but you can also BOTH experience the feeling of an ejaculation. Pop is the ultimate toy for those that want to experiment or already know they love pegging!
For Mixed Status Couples - A "mixed-status" relationship is a sexual relationship in which one partner is HIV- positive and the other is HIV-negative. This can involve a couple in a long-term relationship or a single encounter between two partners. You may also hear these terms to describe such relationships like Serodiscordant, Discordant, Serodivergent, Magnetic or HIV-positive/negative. For mixed-status couples, the possibility of HIV infection is a constant reality. If you are living with HIV, there is always a risk of transmitting HIV to your partner, but you can minimize it. There are many things to consider to minimize your risks so please consult a doctor. However, one of the ways you can minimize your risk is by using sex toys and our personal favorite is of course, Pop! Pop will allow a mixed status couple to engage in safe sexual activity and mimic an ejaculation. For example, if a woman is HIV-positive but her male partner is negative, they could use Pop to inseminate the woman with her partners' sperm but minimize his risk of infection and still have fun!
For Swingers and Polyamorous People - There are limitless possibilities to explore alternative lifestyles and open relationships. From swingers, polyamorists, triads, to all sorts of open relationships, there's something to be said for those that are open to exploring their sexuality in a safe, friendly and most importantly, FUN way. Pop is a fantastic addition in any bedroom!
This product takes into consideration your desire for intimacy, privacy and authenticity along with functionality. It is ideal for someone that wishes to re-create the feeling and experience of traditional ejaculation in the privacy of their own home while having a little fun, as well, including but not limited to same sex couples, transgender FTM, fetish, and BDSM. The Pop is not a pharmaceutical product, is simply a novelty sex toy for women who want to simulate the traditional intercourse and ejaculation process with the aid of a safe, fun novelty toy. The Semenette Pop allows both partners to be involved in the love making process! This product is the first of its kind to allow women to safely and privately mimic traditional ejaculation and have it feel like a truly authentic, enjoyable, and FUN experience!
The Products are made from ultra-hygenic Premium Silicone by Manufacturer , you can use an Anti-bacterial Toy Cleaner, boil or bleach your silicone toys for total sterilization, and it's completely odor free and tasteless. Always use a water-based lubricant, do not use silicone lube with this or any silicone toy, it will break down the material and leave your toy permanently tacky. For the most complete and thorough cleaning don't hesitate to toss your Semenette on the top rack of the dishwasher.
Color: Cream
Material: Silicone
Length: 5 inches
Insertable Length: 4.25 inches
Width: 1.25 inch(head), 1.25 inch(shaft), 3.25 inch(balls & all)
Powered By: You
Weight: 10 oz
Special Features: private insemination, ejaculating dong, usable size, 4 colors, Hygienically superior, body safe, phthalate free, user friendly, Strap-On harness ready
Note: This product is shipped direct from the manufacturer on rare occasions that only ships UPS Ground Delivery so it can take an extra day or 2. Most of the time if you select the USPS Priority Mail shipping at checkout it will be shipped this way. We are sorry for the inconvenience but the quality of this product is worth the extra time.