This is next level sex.
The We-Vibe Chorus 10-function Hands-free App-connected Silicone Couples Vibrator with Squeeze Remote in Crave Coral is a hands-free couples vibrator that takes you to next-level sex. Chorus is all about giving you exactly what you need to maximize pleasure, together. With an adjustable fit, touch-responsive vibrations and customizable controls, it's the most advanced and intuitive couples vibrator ever.
Great sex is all about intuition. Worn during sex, We-Vibe Chorus is adjustable to fit your unique body so you can feel the vibrations right where you want them. The shape is easy to adjust, then stays in position once you've found the perfect fit. Intensify shared pleasure during sex with 10+ powerful modes of deep, rumbly vibrations that provides dual stimulation of the G-spot and clitoris.
Chorus 10-function Hands-free App-connected Silicone Couples Vibrator features unique touch-sensitive receptors located on the top beneath the We-Vibe logo. As you play, your movements control the vibrations. Choose from three Touch-sense modes to find your ultimate pleasure. Change vibration modes as well as the intensity in the heat of the moment. Chorus 10-function Hands-free App-connected Silicone Couples Vibrator with Squeeze Remote is designed with the most natural human response in mind – the tighter you squeeze, the stronger the vibration gets. Release your grip and the vibration weakens.
The We-Connect app lets you play together, even when you're apart. Download the free We-Connect app to unlock Chorus' touch-responsive vibrations, long-distance connectivity and more. Chorus is powered by a combination of Ankorlink and Bluetooth 5, creating the most stable connection between your We-Vibe and We-Connect. Keep your Squeeze Remote close for the best connection. The Squeeze Remote is the anchor between your Chorus and We-Connect — keep it close for the best connection.
Chorus' Squeeze Remote was designed with the most natural human response in mind. The tighter you squeeze, the stronger the vibration gets — and vice versa. When you want a little bit more (or less) stimulation, it's right there. Chorus' responsive controls mean every couple can find their vibe. Touch-sense lets you control Chorus' vibrations with your movements. When you touch or move against the sensor, the vibration level changes.
There are 2 adjustable points on this vibe to better target the G-spot and clitoris with more or less pressure. Your Sync can be adjusted for a custom fit. Find the fit that's right for you and then enjoy. By making small adjustments to the position of either clitoral or G-spot stimulator, you can apply more or less pressure where you need it.
The We-Vibe has 2.7 inches of insertable length on the g-spot side and 2.75 inches long for the external side. It is just 1.1 inch wide for the insertable side and 1.2 for clitoral stimulation. And it's 100% waterproof so you can take it in the shower to share more wet and wild passion than ever before. Just like all of the We-Vibe line of intimate products, this vibe is eco-friendly with a powerful rechargeable battery that lasts for up to 3 full hours on a single 4 hour charge.
Either partner can use the remote and it works up to a distance of 3 meters. The free We-Connect app allows you to play and control from anywhere. Vibe to music with Beat mode or use Touch mode for real-time control at your fingertips. Being made of medical-grade silicone the we-Vibe Sync is very flexible so it can adjust for everyone's subtle body differences that make us unique.
Make a splash with your partner! Made with medical-grade silicone, Chorus App-connected Couples Vibrator with Remote is body-safe and comfortable for both partners as well as a great choice for users with sensitive skin. Just add some We-Vibe Lube Water-based Personal Lubricant or your favorite Water-based Lubricant and have a wet n wild time. It is not recommended to be used with silicone lubes. After use, carefully wash the toy with mild soap and water or try a Toy Cleaner like the We-Vibe Clean Alcohol-free Toy Cleaning Spray for even quicker cleanup. Store this toy separately from other sex toys. The We-Vibe Sync is available in Purple and Aqua coloring.
Color: Crave Coral
Materials: Silicone
Length: 5.75 inch
Insertable Length: 2.65 inch
Width: 1.1 to 1.2 inch widest
Powered By: Rechargeable batteries with USB Charger and Discreet Charging stand
Weight: 9 oz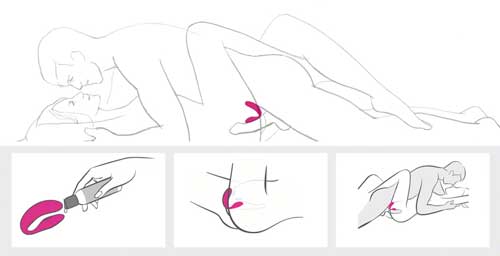 Additional Information: USB Rechargeable, remote control, 5 standard speeds and functions, 5 optional speeds and functions with we-connect app, App adds smartphone control, more modes, customization and distance play, waterproof, dual stimulation, G Spot curved, body safe material, Phthalate Free, Water Based Lubricant Recommended, carbon neutral production, eco-friendly

We're shaping an industry. We-Vibe designs and manufactures world-leading couples and solo vibrators. Our world-class engineers and industrial designer's work closely With sexual wellness experts. doctors and consumers to design and develop intimate products that work In sync with the human body. And we use state-of-the-art techniques and tools to make sure our products set new industry standards for ergonomic design and high performance while remaining eco-friendly and body-safe.
We-Vlbe is from Standard Innovation, a Canadian company dedicated to shaping the future of sexual health and wellness. We are committed to delivering on our promise of customer satisfaction.