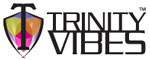 Load it up and shoot it out, it is as simple as that!
Using a good lube can help enhance the pleasures of sexual activity. With the XR Brands Trinity Vibes Lubricant Launcher 3-Pack in Blue, you are able to apply your lubricant of choice with much better precision, there are situations when you aren't quite able to accurately place the lube where you want it. The Trinity Vibes Lubricant Launchers narrowed injector tip makes it easy to ease into anal or vaginal play by lubricating those hard to reach places. The convenient finger grips allow for precise insertion while the attractive casing is easy to clean. Includes two additional launchers. Measurements:
Simply place the tip of the Lubricant Launcher into your favorite lube and pull on the ring. When the launcher or shooter is filled up, place it into the vaginal or anal opening and depress the plunger like a syringe to apply the lube perfectly. Now you won't have to worry about any mess, muss or fuss.
The Trinity Vibes by XR Brands has a full selection of proven essentials for a thriving vibrating sex toy retail business. The line features a wide range of popular massager styles, from foundation items such as bullets to more advanced multi-feature rabbit vibes. The Trinity Men line of accessories and gear is designed and built to appeal to a man's sexual needs. Whether you're in for a night of erotic coupling or solo action, we invite you to satisfy your craving with our selection of erection enhancers, anal stimulators, and pleasure objects.
Made from Anti-bacterial ABS Plastic, the Trinity Line of toys by XR Brands are body safe and a great choice for everyone. Just add your favorite Water-Based Lubricant and have a wet n wild time. It is not recommended to be used with silicone lubes. After use, carefully wash the toy with mild soap and water or try the Toy Cleaner for even quicker cleanup. Store this toy separately from other sex toys.
Measurements: 3.5 inches insertable, 0.5 inches in diameter
Material: ABS plastics
Color: Blue
Powered By: You
These products as with all products on this site are supplied AS IS. No warranty is given either implied or expressed. Products are intended as novelty only, and no representation is made or implied as to their suitability or safety for any particular use. Purchasers use the products entirely at their own risk. The manufacturer or re-seller is not liable for any direct, indirect, incidental or consequential damage or loss howsoever arising caused by use or misuse of the products. This includes, but is not limited to, damage to the products and personal injury or damages due to use or misuse.