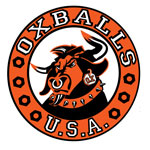 Nothin' is sexier than a big Juicy penis swingin' between a pair of furry thighs.
With the OXBALLS Juicy Pumper Cock Ring in Blueballs Metallic Blue, our new super soft cockring, Juicy, your package never looked meatier with an outside diameter of 11 inches and inside diameter of 5 inches and a is a monstrous 3.5 inches thick. The fat squishy base and curved lip shape not only feels awesome squeezin' your junk, but also pushes your dick and balls out for a mouth watering bulge in your favorite jock or painted on jeans. The Juicy Pumper Cock Ring is made from our signature Smoosh silicone material so it's squishably stretchy and soft but still firm enough to grip your dick just right. And for you pumpin' pigs that love to use Penis Pumps, the thick silicone base is perfect for adding some real vacuum suction and girth when you plump up your dong. The flared mouth-like opening creates an awesome suckin' sensation with each pump. Your swollen sweaty meat will look hot as fuck spillin' out over the fat lip of Juicy Pumper. The Juicy also fits perfectly into the steel ring attached to our OxBalls Neoprene Harness for some extra padding or a super bloated boner with your hole packed full.
The made in the USA by OXBALLS of body-safe Platinum Smoosh Silicone material is soft and flexible but rigid enough for intense sensations. Just add your favorite Water Based Lubricant and have a blast. It is not recommended to be used with silicone lubes. After use, carefully wash the toy with mild soap and water or try the Toy Cleaner for even quicker cleanup. Store this toy separately from other sex toys.
Color: Blueballs Metallic Blue
Materials: Platinum Smoosh Silicone
Outside Diameter: 3.5 inch with an 11 inch circumference
Inside Diameter: 1.59 inch with an 5 inch circumference
Thickness: 3.5 inch
Powered By: You
Weight: 5.1 oz
Disclaimer: These products as with all products on this site are supplied AS IS. No warranty is given either implied or expressed. Products are intended as novelty only, and no representation is made or implied as to their suitability or safety for any particular use. Purchasers use the products entirely at their own risk. The manufacturer or re-seller is not liable for any direct, indirect, incidental or consequential damage or loss howsoever arising caused by use or misuse of the products. This includes, but is not limited to, damage to the products and personal injury or damages due to use or misuse.