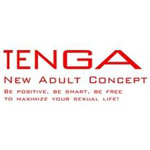 For a special night, crack open the Lovers egg to reveal its soft internal sleeve.
Encased within the elegant black and champagne-pink shell is the LOVERS EGG, a soft, pliable male pleasure sleeve that is embossed with lots of hearts to deliver intense stimulation when stretched over your shaft and allows the user complete control over the stimulation. During use, the material warms to body temperature, so the warmth of the user can be felt between the two. The Super Stretch Sensations EGG can cover almost any size of man for sensual stroking or playful petting.
The super stretchable elastomer concealed within each of these discreet EGGs expands drastically for a snug fit regardless of your size. Great as a novelty gift and a perfect travel companion!
Made from body-safe ThermoPlastic Elastomer(TPE), this 2.5 inch wide male sex toy is tiny and compact, making it perfect for discreet storage, its size means that you can put it almost anywhere, in your pocket - even in an egg carton! To maintain your TENGA Egg, it should be thoroughly cleaned after every use and placed back inside the original Egg casing. Use with lots of water-based lubricant. The Tenga Egg can also be purchased in a 6-pack of eggs and an assorted 6-pack of all the textures
Color: Opaque White
Material: Silicone
Texture: Hearts
Length: 2.5 inch maximum length of 8 inch
Width: 1.75 inches