Do you want to make your favorite Masturbator even more realistic or experiment with temperature play, just add some heat with this Master Series Warming Rod.
The XR Brands Master Series Inferno Heated Sensation USB-powered Stroker & Masturbator Warming Wand is a completely innovative way to bring up the heat to body temp for teasing your body, insertion or use it on your stroker or masturbator of choice for an ultra real session, Master Series presents the 5.5 inch insertable Inferno Warming Wand, a sleek silver 7.25 inch long, 1 inch wide rod that, once heated, is inserted into the entry of the masturbator of the moment to add lifelike, ultra stimulating warmth. The Inferno Heated Sensation USB-powered Stroker & Masturbator Warming Wand is an innovative new way to warm up your masturbation toys so that they feel just like the real thing when you plunge into them.
Alternately, you can use the Warming Wand as a sensation tool, experimenting with temperature play both internally and externally! Insert plastic warming wand for 10 minutes remove then enjoy as usual. Includes USB power cable so you use it anywhere there is a USB port or wall adapter. May be used with most strokers made from UltraSkyn, CyberSkin, UR3, UR5, Real Skin, FantaFlesh, any toy made of TPR or TPE and all FleshLight or FleshJack toys.
Master your domain. Explore an abyss of taboo fantasies with Master Series! Spanning all levels and niches of BDSM, Bondage and Fetish, this devious collection includes essentials for chastity, puppy play, Master/slave, medical fetish and much more! Discover cutting-edge toys, tools, and devices that will make your inner Dominant or submissive tremble with excitement. Craft an unforgettable play scene with unique accessories from the Master Series collection by XR Brands.
This Master Series toy by XR Brands is crafted from hypoallergenic, medical-grade ABS Plastic which is non-porous and body-safe even for customers with sensitive skin. This toy is safe to use with water-based lubricants for a hot and sexy ride. After use, carefully wash the toy with mild soap and water or try the Toy Cleaner for even quicker cleanup. Do not submerge in water.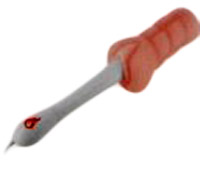 Color: Silver, Black
Materials: ABS Plastic, Metal
Length: 7.25 inch
Insertable Length: 5.5 inch
Width: 1 inch
Powered By: USB powered
How to Use Item: Place warming wand into desired orifice of toy. Wait 10 minutes for wand to heat up to body temperature. Remove warming wand from toy before use.
Weight: 7 oz
Additional Information: insertable, warning rod, temperature play, USB powered, can be used with most masturbator or stroker materials, Phthalate Free
Disclaimer: These products as with all products on this site are supplied AS IS. No warranty is given either implied or expressed. Products are intended as novelty only, and no representation is made or implied as to their suitability or safety for any particular use. Purchasers use the products entirely at their own risk. The manufacturer or re-seller is not liable for any direct, indirect, incidental or consequential damage or loss howsoever arising caused by use or misuse of the products. This includes, but is not limited to, damage to the products and personal injury or damages due to use or misuse.