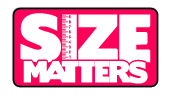 The Bionic Electric Pump lets you take your pumping experience to the next level!
It provides a continuous even flow of vacuum pressure, and its brass pressure valve allows you to adjust the intensity of the suction. The gauge allows a view of the precise pressure level for maximum control over your pumping regimen. This electric pump offers superior power and convenience over manual pumps and achieves higher levels of suction much faster.
To help maintain your erection, this set includes an adjustable snap-on leather cock ring, and three different sized clear stretchy cock rings. Experience the power and convenience of the quiet and dependable Deluxe Electric Pump! Also includes one cylinder and 10 feet of tubing. This pump will work with all of the Size Matters Cylinders and Pumping Accessories we sell.

Measurements: Approx. Cylinder: 9.25 inch length and 2 inch diameter opening; Tubing: 10 feet in length; Cock Rings inner diameter: 1.25 inch, 1.14 inch and 0.96 inch
Note: This item uses US Voltage - 120V
Disclaimer: These products as with all products on this site are supplied AS IS. No warranty is given either implied or expressed. Products are intended as novelty only, and no representation is made or implied as to their suitability or safety for any particular use. Purchasers use the products entirely at their own risk. The manufacturer or re-seller is not liable for any direct, indirect, incidental or consequential damage or loss howsoever arising caused by use or misuse of the products. This includes, but is not limited to, damage to the products and personal injury or damages due to use or misuse.