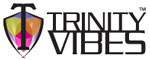 What do you get for the person who likes everything? Options!
The XR Brands Trinity Vibes Invader 10-function Remote Control Rechargeable Vibrating Silicone Butt Plug is a perfect gift for your personal assistant, the battery-operated wireless vibrating butt plug with remote control is an ass full of ten-speed fun. This unique Remote Control Rechargeable Vibrating Silicone Butt Plug has a max girth of 2 inches that tapers to a 1.5 inch wide neck with a total of 4.5 inches insertable and is very smooth for added pleasure and stimulation. Once inserted into your area of choice, simply hold the external power switch and let the fun begin. The included remote on the Invader 10-function Remote Control Rechargeable Vibrating Silicone Butt Plug has a range of up to 35 feet and can cycle through 3 vibration speeds and 7 rhythmic patterns. Everyone likes playing with remote controlled toys, but this one is strictly for adults.
Trinity Vibes is a full selection of proven essentials for a thriving vibrating sex toy retail business. The line features a wide range of popular massager styles, from foundation items such as bullets to more advanced multi-feature rabbit vibes. The Trinity Men line of accessories and gear is designed and built to appeal to a man's sexual needs. Whether you're in for a night of erotic coupling or solo action, we invite you to satisfy your craving with our selection of erection enhancers, anal stimulators, and pleasure objects.
Made from Anti-bacterial Silicone, the Trinity Vibes Line of toys are body safe and a great choice for everyone. Just add your favorite Water-Based Lubricant and have a wet n wild time. It is not recommended to be used with silicone lubes. After use, carefully wash the toy with mild soap and water or try the Toy Cleaner for even quicker cleanup. Store this toy separately from other sex toys.
Color: Black
Materials: Silicone, ABS Plastic
Length: 6 inch(plug), 2.6 inch(remote)
Insertable Length: 4.5 inch
Width: 1 inch(tip), 2 inch(bulb), 1.5 inch(shaft), 2.6 inch(flared base), 1.75 inch(remote)
Powered By: Remote requires 27A/12V and Plug requires 2 AAA batteries that are included(Buy Your Batteries Now)
Weight: 9 oz
Additional Information: 35 foot range, 10 modes of vibration, remote control, multi-speed vibration, removable bullet vibe, safety base, Phthalate Free, waterproof, body-safe, Water Based Lubricant Recommended
Disclaimer: The manufacturer will only ship these items UPS Ground so it may take a few extra days for delivery. These products as with all products on this site are supplied AS IS. No warranty is given either implied or expressed. Products are intended as novelty only, and no representation is made or implied as to their suitability or safety for any particular use. Purchasers use the products entirely at their own risk. The manufacturer or re-seller is not liable for any direct, indirect, incidental or consequential damage or loss howsoever arising caused by use or misuse of the products. This includes, but is not limited to, damage to the products and personal injury or damages due to use or misuse.