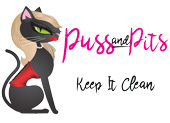 Keep It Clean!
No shower time? Busy Mom? Monthly visit? About to get lucky? Too many cocktails last night? Doing the walk of shame? We don't judge. We just don't want you to stink. That's why Puss & Pits Premium Feminine Wipes were created. Hypoallergenic, pH Balanced, Alcohol Free. You can even take your makeup off with them! This pack includes 3 packs of 15 wipes.
Toss them in your purse, gym or travel bag for instant freshness when you need it. A luxury wipe to keep your sweet spot set. This especially gentle formula delivers a sophisticated clean, especially designed for women (no, not the baby!). Made by women, for women. Puss & Pits helps you start things off right each day by taking care of you first. Get refreshed and ready to go with these handy feminine wipes that aren't just for girls. Naturally. For external use only. Wipe and toss responsibly.
Ingredients: Aqua water, propylene Glycol, Phenoxyet Hanol, Polyoxyethylene 20, Sorbitan Monolaurate, Cucumber extract, Benzalkonium Chloride, sodium Citrate, Disodium Edetate Dihydrate, Bisabolol, Aloe and Fragrance.
Today's woman is always on the go. From chemistry class to gym class, yoga to an early morning board meeting, life seems to be getting busier and busier. But women are the doers. The makers. The helpers. The dreamers. We make things happen because we're strong and capable and kind of awesome. And that's exactly what the women of SweetSpot Labs did. We knew every woman needed to experience the luxurious freshness and unmistakable convenience of SweetSpot and we made it our mission to simplify a woman's cleansing rituals by creating the leading, natural feminine skincare products on the market today. Yay women!