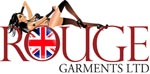 The Rouge Garments Stainless Steel Medium Threaded Butt Plug adds a little luxury to your rear with a clear crystal embedded in the base and was thoughtfully designed for precision prostate massage and other backdoor pleasure pursuits.
Shaped for easy insertion, a unique threaded tapered 1.25 inch wide head naturally fits the curves of the anal canal with 2.25 inches insertable, gently and excitingly stretching the nerve-ending packed anal walls upon insertion. This plug has a .375 inch wide neck or shaft that allows your sphincter muscles to clamp down to hold it inside your body with a 1 inch wide flared base that has a sparkly crystal securely mounted for safe play. Because it's perfectly weighty, and amazingly unyielding, stainless steel allows for the type of firm, unrelenting massage that's often key to g-spot and prostate based orgasms, it's also incomparably hygienic and hypoallergenic, safe for even sensitive skin. This Stainless Steel Anal Plug makes a good starter for those new to anal exploration and butt sex. Based in the UK, Rouge Garments create high quality BDSM accessories using leather specifically chosen and bought direct from proven and trusted tanneries.
The stainless steel material is extremely hygienic you can use an Antibacterial Toy Cleaner, boil or bleach your plug for total sterilization. Always use a water-based lubricant to make insertion easier and more pleasurable.
Color: Silver
Material: Stainless Steel, crystal
Length: 2.75 inches
Insertable Length: 2.25 inches
Width: 1.25 inch(bulb), .375 inch(shaft), 1.25 inch(base)
Weight: 4.4 oz
Special Features: Hygienically superior, threaded bulb, clear crystal jewel, solid stainless steel, weighty, safety flared base, body safe, phthalate free, user friendly
Disclaimer: These products as with all products on this site are supplied AS IS. No warranty is given either implied or expressed. Products are intended as novelty only, and no representation is made or implied as to their suitability or safety for any particular use. Purchasers use the products entirely at their own risk. The manufacturer or re-seller is not liable for any direct, indirect, incidental or consequential damage or loss howsoever arising caused by use or misuse of the products. This includes, but is not limited to, damage to the products and personal injury or damages due to use or misuse.