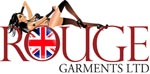 Doesn't your cock deserve a Crown!
This small Rouge Garments Stainless Steel Crown Penis Plug features a triple hook end that will prevent over insertion but also allows you to spin it around whilst inserted stimulating the glans.
It's made of body-safe stainless steel. We recommend a good quality Water-Based Lubricant to be used for easy insertion and have a wet n wild time. It is not recommended to be used with silicone lubes. After use, carefully wash the toy with mild soap and water or try the Toy Cleaner for even quicker cleanup. Store this toy separately from other sex toys. Based in the UK, Rouge Garments create high quality BDSM accessories using leather specifically chosen and bought direct from proven and trusted tanneries.
Color: Silver
Material: Stainless Steel
Length: 48mm
Insertable Length: 45mm
Width: 8mm(shaft)
Powered By: You
Weight: 2 oz
Additional Information: body-safe, medical grade stainless, firm probe, Water Based Lubricant Recommended, Waterproof.
Disclaimer: These products as with all products on this site are supplied AS IS. No warranty is given either implied or expressed. Products are intended as novelty only, and no representation is made or implied as to their suitability or safety for any particular use. Purchasers use the products entirely at their own risk. The manufacturer or re-seller is not liable for any direct, indirect, incidental or consequential damage or loss howsoever arising caused by use or misuse of the products. This includes, but is not limited to, damage to the products and personal injury or damages due to use or misuse.