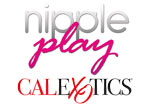 Push sensation to the next level and enjoy tugging nipple play with this beautiful Pink Crystal Jeweled Chain with Adjustable Padded Nipple Clamps for the perfect tension.
Push sensation to the next level and enjoy teasing nipple play with the CalExotics Nipple Play Pink Crystal Jeweled Chain with Adjustable Nipple Clamps. Explore elevated sensation with the 2 fully adjustable nipple clamps, teasing chain and sparkling crystals. Reach new levels of playful pleasure with the adjustable clamps that apply as much tugging of the Crystal Jeweled Chain and tightness as you want. Clamp the naughty clasps to your body and enjoy every rush of pain and pleasure.
The teasing Pink Crystal Jeweled Chain with Nipple Clamp has adjustable tension to stimulate anywhere on your body for playful teasing. As the tension tightens, the tingles intensify with every turn of the dial on the Nipple Clamps for the ultimate in nipple stimulation toys. With the teasing clamp stimulation and increased blood circulation, you can look forward to amplifying nipple sensitivity and intensify overall arousal.
These easy-to-use nipple teasers are great for him or her. The two adjustable clamps are made from nickel-free iron with silicone cote, an nickel-free iron chain and Silica crystals. The CalExotics Nipple Play Non-Piercing Nipple Jewelry set comprises of a pair of fully adjustable, non-piercing nipple adornments that are comfortable to wear, and erotically fashionable. Use the decorative jewelry for seduction or fetish play, One size fits most. Perfect under your favorite outfit, or without anything at all, suitable for all day wear.
Lovers of extended nipple play will enjoy the additional visual stimulation that the sparkling crystal chain provide. Surprise your lover by slipping on the nipple jewelry and issuing an invitation to play. To heighten the sensual sensations apply arousal gel directly to the nipple, for a long lasting erect nipple effect. Before and after every use, clean the nipple jewelry with a Toy Cleaner spray. The CalExotics Nipple Play line of toys are made of high quality materials that are phthalate free and waterproof. Store this toy separately from other sex toys. Comfort, style and pleasure are all rolled into one!
Color: Black, Silver Pink, Clear
Materials: Crystal, Silicone(pads), Metal, ABS Plastic
Length: 12 inch
Width: 2.25 inch(clamp)
Powered By: sliding loop
Weight: 4 oz
Additional Information: adjustable clamps, jeweled chain, padded tips, variable rate of tension, Body-safe, Multi Function, phthalate free, Water Based Lubricant Recommended, waterproof