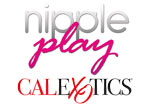 Increase your intimate pleasure with the Nipple Play Vibrating Nipple Clamps.
The CalExotics Nipple Play Vibrating Adjustable Broad Tip Nipple Clamps with Multi-Speed Bullets in Black boast a high-intensity motor for satisfying stimulation and ultimate ecstasy. The erotic nipple stimulators are designed for maximum tingles and heightened sensual satisfaction. When using the arousing clamps, first time and experienced users will enjoy an unforgettable exotic experience. The Vibrating Adjustable Broad Tip Multi-use Clamps measure 1.75 inches and deliver an intensely tantalizing squeeze. To increase sensitivity further, apply arousal gel to the nipples before attaching the mini clamps.
The easy to use Nipple Play Vibrating Adjustable Broad Tip Nipple Clamps are made from non-tarnishing iron and feature phthalate free PVC pads and a multi-speed ABS controller with twin stimulators. The fully adjustable clamps attach directly on to the nipples for an intensely pleasurable thrill. To adjust the fit, simply twist the screws. Once in place, activate the high-intensity motor and select the preferred vibration speed. The Vibrating Nipple Stimulators will deliver a power-packed ecstasy charge that will make your pleasure go through the roof. To power up the fetish fun, for extended nipple play, insert 3 AA batteries into the controller and you are ready for action.
These easy-to-use nipple teasers are great for him or her. The two adjustable clamps are made from nickel-free iron with silicone cote, an nickel-free iron chain and Silica crystals. The Cal Exotics Nipple Play Non-Piercing Nipple Jewelry set comprises of a pair of fully adjustable, non-piercing nipple adornments that are comfortable to wear, and erotically fashionable. Use the decorative jewelry for seduction or fetish play, One size fits most. Perfect under your favorite outfit, or without anything at all, suitable for all day wear.
Lovers of extended nipple play will enjoy the additional visual stimulation that the sparkling crystal chain provide. Surprise your lover by slipping on the nipple jewelry and issuing an invitation to play. To heighten the sensual sensations apply arousal gel directly to the nipple, for a long lasting erect nipple effect. Before and after every use, clean the nipple jewelry with a Toy Cleaner spray. The Cal Exotics Nipple Play line of toys are made of high quality materials that are phthalate free and waterproof. Store this toy separately from other sex toys. Comfort, style and pleasure are all rolled into one!
Color: Black, Silver
Materials: ABS with PU Cote (controller, clamps), Nylon (screws), ABS with Silver Plating (button), Phthalate-Free PVC (cord)
Length: 1.5 inch
Width: 1 inch
Powered By: 3 AA Batteries(Buy Your Batteries Now)
Weight: 1.8 oz
Additional Information: fully adjustable for any size nipple, multi-speed vibrations, Body-safe, Multi Function, vibrates, phthalate free, pvc-free, Water Based Lubricant Recommended, waterproof