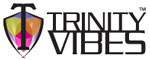 This stretchy Silicone Penis Head Pleaser slips over the most sensitive part of your shaft to stimulate it with intense vibration!
Apply a little Water-Based Lube to create a slippery orifice to slide in and out of the XR Brands Trinity Vibes 10-function Rechargeable Vibrating Silicone Penis Head Pleaser. The multitude of nubs within will massage the head of your penis while you experiment with 3 speeds of buzzing and 7 patterns of powerful pulsation. The grooved texture on the outside of the Trinity Vibes 10-function Rechargeable Vibrating Silicone Penis Head Pleaser makes it easy to keep a firm grip on, even during vigorous use. This rechargeable tool is even waterproof for wet, hot fun in the shower.
The XR Brands Trinity Vibes is a full selection of proven essentials for a thriving vibrating sex toy retail business. The line features a wide range of popular massager styles, from foundation items such as bullets to more advanced multi-feature rabbit vibes. The Trinity Men line of accessories and gear is designed and built to appeal to a man's sexual needs. Whether you're in for a night of erotic coupling or solo action, Trinity Vibes invite you to satisfy your craving with their selection of erection enhancers, anal stimulators, and pleasure objects.
Made from Anti-bacterial Silicone, the Trinity Line of toys by XR Brands are body safe and a great choice for everyone. Just add your favorite Water-Based Lubricant and have a wet n wild time. It is not recommended to be used with silicone lubes. After use, carefully wash the toy with mild soap and water or try the Toy Cleaner for even quicker cleanup. Store this toy separately from other sex toys.

Measurements: 5.5 inches in total length, 2.5 inches insertable length, 1.7 inches in diameter
Material: Silicone
Color: Black
Note: Rechargeable with USB charge cable
Disclaimer: The manufacturer will only ship these items UPS Ground or 1st Class Mail so it may take a few extra days for delivery. These products as with all products on this site are supplied AS IS. No warranty is given either implied or expressed. Products are intended as novelty only, and no representation is made or implied as to their suitability or safety for any particular use. Purchasers use the products entirely at their own risk. The manufacturer or re-seller is not liable for any direct, indirect, incidental or consequential damage or loss howsoever arising caused by use or misuse of the products. This includes, but is not limited to, damage to the products and personal injury or damages due to use or misuse.